I just wanted to take a moment to tell you lovely readers about a great bookish subscription service called
OwlCrate
. For those of you who have not heard of this service, its $29.99 + S&H. Thing is is you use this special code NEWMEMBER you'll be able to knock off a bit of cash. Every month there is a different theme in each box you can expect:
Hardcover book
3-5 quality bookish items.
This months OwlCrate theme is Steam Punk and out of the 3 months of using this service I have to tell you that this box is my favorite and I had use for each and every item in this box. As for the book, it was called Everland by Wendy Spinale. So here's what I got:
I wish I got a better shot of that ring but its really cute, it based of The Infernal Devices. It was designed by
Sparks Emporium
.
Then there's the Skeleton Key by
Crystal Compass Designs
. Soon as I saw that necklace I put it on straight away. It has a long chain and its super cute and I loved it.
The other key item, is from Elope. It's labeled Metal Accessories, its a broach or pin. I'm thinking I might put it on a hairclip because I don't use pins much but I'm in love with that key and it needs to be used and shown off. The details are incredible.
Some other items that came in the box was the steamp punk inspired nails wraps. I don't use them often and find them pricey in general and was glad to have gotten them in this box. Also there is like 2 weeks worth of nail wraps, so basically when I instantly ruin on while putting on or so I can go for the back ups which is handy. Also there is a link to how to put them on so that's helpful.
Temporary Flash Tattoos based off the book was also included in the box in the shapes of Cogs, Wings and such. So cute.
The last bookish item recieved was the Art Print by Creative Daffodil Studios as a tribute to J.M. Barrie. Its a Peter Pan inspired print.
Continue reading to see the review to this fantastic book I received in this book.
Anyways should any of you decide to subscribe please use this referral link I'd appreciate it!

Referral Link Click Here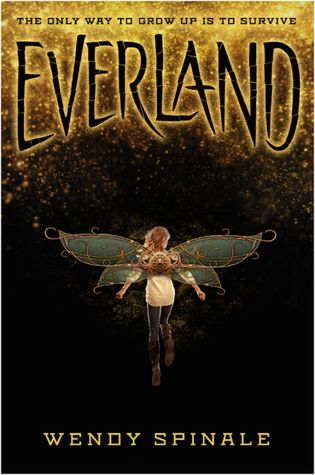 Everland by Wendy Spinale
Genre: Fantasy, Retelling, SteamPunk, Romance, Young Adult, Fairy Tales, Historical Fiction, Dystopia
Pages: 320
Published May 10th 2016 by Scholastic Press
London has been destroyed in a blitz of bombs and disease. The only ones who have survived are children, among them Gwen Darling and her siblings, Joanna and Mikey. They spend their nights scavenging and their days avoiding the ruthless Marauders -- the German army led by Captain Hanz Otto Oswald Kretschmer.
Unsure if the virus has spread past England's borders but desperate to leave, Captain Hook hunts for a cure, which he thinks can be found in one of the survivors. He and his Marauders stalk the streets snatching children for experimentation. None ever return. Until the day they grab Joanna. As Gwen sets out to save her, she meets a daredevil boy named Pete. Pete offers the assistance of his gang of Lost Boys and the fierce sharpshooter Bella, who have all been living in a city hidden underground. But in a place where help has a steep price and every promise is bound by blood, it will cost Gwen. And are she, Pete, the Lost Boys, and Bella enough to outsmart Captain Hook?
Last night I refused to go to sleep until I had finished this book. It was that good.
I loved this book it was so imaginative, fun, and enjoyable. I loved when I can come across retelling, even better if its steampunk another genre I don't really come across. When I do I'm never disappointed. I loved this book. There is so much to love, the characters, the fact that you'll get different point of views from multiple characters including Hook. I thought this was a really great reimagining of a classic. There was plenty of action going on from the very start to draw the readers in. I want write more about this book on why I loved it to much but you should see for your self. Bump it to the top of your TBR list you'll be happy you did.