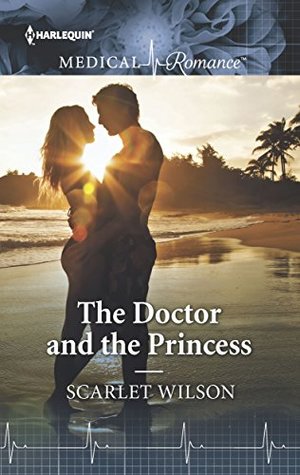 The Doctor and the Princess by Scarlet Wilson
Genre: Contemporary, Romance, Medical Romance
Pages: 256
As a rule, Gabrielle Cartier prefers the title "Dr." to "Princess." And when sexy surgeon Sullivan Darcy joins her humanitarian mission in the jungle, she's desperate to explore their chemistry. Until sudden news of her brother's abdication means Gabrielle must return home to rule!
Sullivan longs to offer Gabrielle the support she needs but the pain of loss haunts him. Yet she stirs long-dormant feelings in him, feelings that give him the courage to confront his demons…and the determination to win his princess!
Gabrielle and Sullivan work for a mission that helps in need countries for those who desperately needs help.There is where they met and things things start to hit it off for the two, after Gabrielle is called to take over her as a princess its obvious shes not the only one keeping secrets. Sullivan is along for the ride but he still got his issues to deal with can he take the pressures of everything going on?
Not even sure if its a good summery but I'm just going to go with it. I really liked this book, I thought it was interesting seeing how Gabrielle dealt with what was handed to her and seeing her take on the role. It was interesting seeing Sullivan dealing with his own set of issues and how they worked on things together. I loved that Gabrielle was not a person to stand to the side when she was given a role she did her best at what she does. You know what I don't think I can tell you more about what I liked about this book without giving it away. I just loved the balance between these two who are nothing alike and managed to find a way to work together. Overall this was a pretty good book, I really enjoyed it.