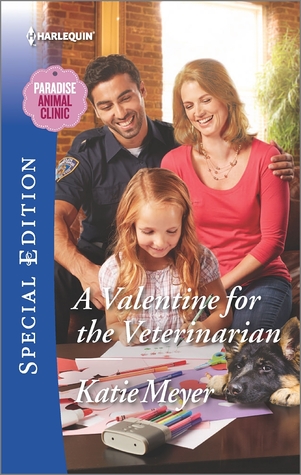 A Valentine for the Veterinarian
(Paradise Animal Clinic #2)
Goodreads
:
Click
Purchase link
:
Amazon
Pages
:224
Published January 19th 2016 by Harlequin
Synopsis:
It's raining cats and dogs and babies?
When charismatic K-9 cop Alex Santiago shows up at Paradise Animal Clinic with a tiny gray kitten in his jacket, something inside Dr. Cassie Marshall shifts. The overworked single mom and veterinarian had been sure her plate was already full. Yet something about Alex's coffee-brown eyes has made her reconsider. Surely she can make room in her heart for just one more.
But two? When Cassie learns she is pregnant after a hot night with Alex, she panics. How can she handle one man, his dog, her little girl, their cat and a baby? Her sexy deputy sheriff has made no bones about wanting a simple relationship. So how can she tell her love-shy Valentine that their already full menagerie is about to be visited by the stork?
Review:
Alex is a new cop in town and Cathy is less than thrilled, she has her guards up for this guy because of something in the past but slowly but surely a break from her walls. Throw in a kitten, Cassie's daughter, Alex's K9 and a pregnancy you got a mess of drama to see.
I like this book, it was sweet, it was short, it was just an overall good book. I love the characters and their back stories were interesting. I love that there was both point of views. I love seeing the interaction between Alex, Cassie, and the daughter. This book is well written and a sweet book to read for Valentines Day what better time to get this book then now?