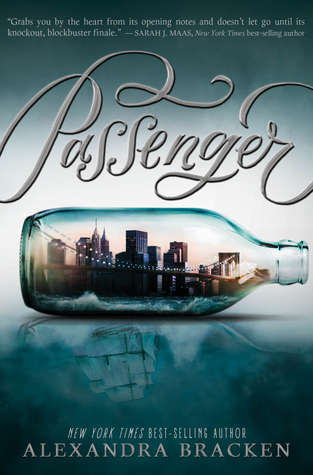 Passenger by Alexandra Bracken
Genre
: Young Adult, Fiction, Time Travel, Fantasy, Historical Fiction, Science Fiction, Romance, Paranormal
Goodreads
:
Click
Purchase Link: Amazon
Pages
: 496
Synopsis:
passage, n.
i. A brief section of music composed of a series of notes and flourishes.
ii. A journey by water; a voyage.
iii. The transition from one place to another, across space and time.

In one devastating night, violin prodigy Etta Spencer loses everything she knows and loves. Thrust into an unfamiliar world by a stranger with a dangerous agenda, Etta is certain of only one thing: she has traveled not just miles but years from home. And she's inherited a legacy she knows nothing about from a family whose existence she's never heard of. Until now.

Nicholas Carter is content with his life at sea, free from the Ironwoods—a powerful family in the colonies—and the servitude he's known at their hands. But with the arrival of an unusual passenger on his ship comes the insistent pull of the past that he can't escape and the family that won't let him go so easily. Now the Ironwoods are searching for a stolen object of untold value, one they believe only Etta, Nicholas' passenger, can find. In order to protect her, he must ensure she brings it back to them— whether she wants to or not.

Together, Etta and Nicholas embark on a perilous journey across centuries and continents, piecing together clues left behind by the traveler who will do anything to keep the object out of the Ironwoods' grasp. But as they get closer to the truth of their search, and the deadly game the Ironwoods are play­ing, treacherous forces threaten to sep­arate Etta not only from Nicholas but from her path home . . . forever
My Thoughts:
Etta was getting ready for her chance to be on stage to play her violin when she heard an odd noise and saw her violin instructor dying on the floor. Suddenly she was thrusted onto some ship going who knows where and told she must find some item her mother had stole or her mother will be killed. Now Etta with the help of Nicholas a fellow time traveler to find the item her mother stole and give it back within a time frame. Meanwhile Etta has her own plans to finding the object, not giving it back, and saving her mother. Now if only she can get this done without getting herself killed...
Time travel is not my favorite subject but I've decided to take a chance and get my hands on this book. There are so many people out there raving about this book and I knew it must be good.
One of the things that I can say that I really love about this book is how it's written. There were times I was so immersed in this book, that the words seems to blend together in my mind and paint a vivid pictures. That goes to say that this book wasn't overly descriptive which would've been too much. It was just descriptive enough to easily imagine how things are, where I was able to fill in the blanks without it being too much. I'm not sure if I'm explaining that right and I hope you understand. What I mean is that there are books that are overly descriptive that it just seems like fluff to extend the story needlessly and make its dull a bit. In my head I would be saying that is this information really necessary? Like does it have anything to what the book is about to help progress it or something like that? Like in the beginning when Etta slapped Wren I could've sworn that I heard the slap. I guess I was just that sucked up into that I can imagine what things looked liked and sounded that I sat there surprised and was like Woah wait a sec I'm way too into the book right now. Either that or a family memember is playing a fight/slap scene on TB just in time, or one of my little sibling just happened to hit one another to cause me some confusion. Regardless this book was well written.
Another thing that I found interesting was the way Etta's mind worked. In some points of the book definitely in the beginning I thought it was interesting how she interpreted things in a musical way. I'm not even sure how to explain that without you readers checking out book, if you read it maybe you would understand what I mean. Plus I don't want to give out spoilers and ruin the book for you.
I loved that there was so much going on that there was never a dull moment for me. There was so much twists and turns going on with each passage there was something else in that world to overcome. I swear it was also hard for me to put the book down. I loved that this book was unpredictable.
I thought that ending was interesting, and unfortunately its a bit of a cliffhanger. Again as much as I would like to talk about that ending I simply can't without spoilers so I'll end my review here. I can't wait to see what is in store for Etta, Nicholas, Sophia and the other characters.
So readers have you read this book? What did you think? I'm not usually a fan of Time Travel themed books so maybe I'm not reading the right books. What is your favorite Time Travel books. Leave your comment below.