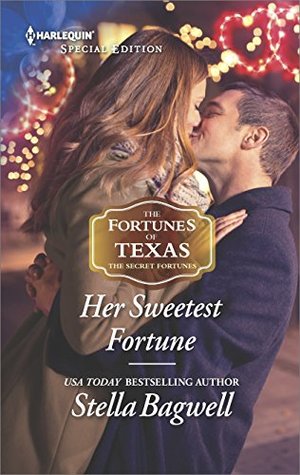 Her Sweetest Fortune by Stella Bagwall
Genre: Contemporary, Holiday, Romance, Valentine's Day
Pages: 224
Release Date: February 1st 2017 by Harlequin Special Edition
Sophie Fortune Robinson is on a mission. The word around the office watercooler is that the boss's youngest daughter is intent on landing Mr. Right by Valentine's Day—and that she has her eyes, and heart, set on a certain hunk in Marketing. But when she enlists her longtime pal and coworker Mason Montgomery to teach her how to get a man to notice her, little does she know she's already captured his attention!
Now Mason's in a real bind! He has just a few short weeks to fight his way out of the "friend zone." On his agenda: convincing sweet Sophie that he is the real man of her dreams! Will Fortune smile on true love's venture?
Sophie is looking to have a wonderful Valentines day with the man of her dreams which is the guy in marketing Thom. With more unfortunate news about her fathers indiscretions shes just looking to be happy dating Thom and looking forward to Valentines day. While she works on catching his eye she looks towards her friend Mason for some advice not knowing that he is the one that cares for her.
So this was a sweet book. Really is a nice book to read around Valentines day. I thought it was interesting getting to see more of the Fortune family and seeing how everyone is dealing with news with even more siblings popping up due to their fathers cheating ways. I loved getting to see Manson's side of things and seeing him be there for Sophie. I thought it was interesting seeing how Sophie is handling things and how she felt like dating Thom and her curiosity towards her mother. I would really like to know her mothers oddness towards everything thats going on. Overall this is a really good book and I enjoyed it.