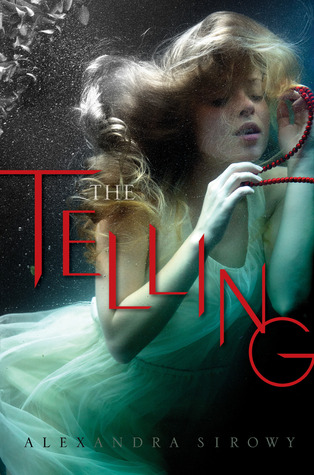 The Telling by Alexandra Sirowy
Genre: Suspense, Mystery, Contemporary, Young Adult,
Goodreads: Click
Pages : 387
Published
:
August 2nd 2016 by Simon & Schuster Books for Young Readers
Lana used to know what was real.
That was before when her life was small and quiet.
Her golden step-brother, Ben, was alive, she could only dream about bonfiring with the populars, their wooded island home was idyllic, she could tell the truth from lies, and Ben's childhood stories were firmly in her imagination.
Then came after.
After has Lana boldly kissing her crush, jumping into the water from too high up, and living with nerve and mischief. But after also has horrors, deaths that only make sense in fairy tales, and terrors from a past Lana thought long forgotten: Love, blood, and murder.
Lana is torn up by the loss of her brother after a random grisly murder. With the murderer not caught she must learn to get past it. Its the summer and now shes hanging out with the cool kids who wouldn't give her the time of day. Shes becoming daring and brave. Thing take a turn when her brothers ex is found at the bottom of a spring and all eyes seem to be on her and the group. To make matters worse one by one kids from their group are being killed off.
Hands down this book has to be my favorite book of the summer. When I get an galley I usually read a book and done will never consider getting a physical copy because reading it was good enough but this book I need to get a physical copy on my bookshelves, I can honestly say I loved it.
I loved that there was so much going on. Plenty of drama and reveals throughout the story. I loved that there was plenty of clues and loops to keep the readers guessing. I loved that I was in a constant state with thinking of putting the blame on different characters, I even though that the main character - Well you know what I can't even finish that sentence without spoiling the book for you. It was interesting getting to see Ben's and Lana's relationship before he died. I loved hearing their twisted story and questioning why their stories were bleeding out in the real world making Lana question what is really going on. I thought it was interesting getting to know Ben and Diana's history before they met Cal and Lana. I loved Willa's friendship with Lana's she was a true friend and stuck with her even when she was going through things. That ending, wow, Just read the book you won't regret it!