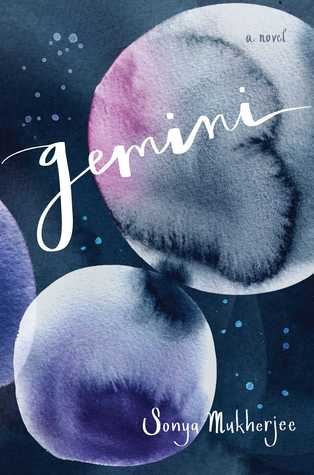 Gemini by Sonya Mukherjee
Genre: Contemporary, Romance, Siblings, Special Needs, New Experiences
Pages: 336
Published :

July 26th 2016 by Simon & Schuster Books for Young Readers
In a powerful and daring debut novel, Sonya Mukherjee shares the story of sisters Clara and Hailey, conjoined twins who are learning what it means to be truly extraordinary.
Seventeen-year-old conjoined twins Clara and Hailey have lived in the same small town their entire lives—no one stares at them anymore. But there are cracks in their quiet existence, and they're slowly becoming more apparent. Clara and Hailey are at a crossroads. Clara wants to stay close to home, avoid all attention, and study the night sky. Hailey wants to travel the world, learn from great artists, and dance with mysterious boys. As high school graduation approaches, each twin must untangle her dreams from her sister's, and figure out what it means to be her own person.
Told in alternating perspectives, this unconventional coming-of-age tale shows how dreams can break your heart—but the love between sisters can mend it.
Clara and Hailey are conjoined twins that are nearing the ending of school to the point where they needs to think of things past high school and towards college and life. Not only that there's a new guy in school one OF the girls has her eyes on and a Sadie Hawkins school dance that is coming soon.
You know what I'm kinda terrible as describing books sometimes. This is one of those times. What I loved straight off the back while reading a couple pages into this book was how distinct the two girls were. While reading it was easy to distinguish between the two by the way they talks or how they thought about different situations. This was the first time I've ever read a book with the main character being a conjoined twin, wasn't sure I was going to like it but I had a copy of this in Netgalley and won a giveaway that got this book straight into my hands. Figured it was a sign I needed to check this book out. One thing I can really say I loved was that cover, its simply beautiful and matched the book. Or at least matched Hailey very much. I loved getting to know the characters and seeing their brief journey in high school. I thought it was interesting getting to see the boy issues aspect of the book and seeing how her peers were settling with their situation. Overall I really enjoyed this book it was interesting getting to know the two girls perspective.