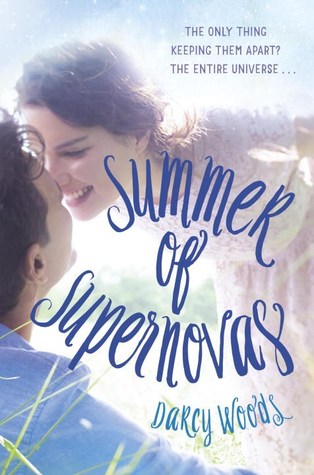 Summer of Supernovas by Darcy Woods
Genre: Contempmorary, Romance, Young Adult
Pages: 352
Published May 10th 2016 by Crown Books for Young Readers
Fans of Jennifer E. Smith and Jenny Han will fall in love with this heartfelt and humor-laced debut following one girl's race to find the guy of her cosmic dreams.

When zodiac-obsessed teen Wilamena Carlisle discovers a planetary alignment that won't repeat for a decade, she's forced to tackle her greatest astrological fear: The Fifth House—relationships and love.

But when Wil falls for a sensitive guitar player hailing from the wrong side of the astrology chart, she must decide whether a cosmically doomed love is worth rejecting her dead mother's legacy and the very system she's faithfully followed through a lifetime of unfailing belief.
Wil is obsessed with astrology and knowing that her alignment for finding love will be coming to an end very soon and won't come around for a long time she decides to find herself some love. When she meets grant a guitar player she knows he can't she compatible with her sign and refuses to give him the chance, if only her heart would listen. Instead she ends up finding out that Seth who happens to be Grants brother is compatible to her zodiac needs. If Seth is so compatible why is she not able to get Grant out of her mind?
If you hate love triangles you not going to like this book, good thing for me that I do. I really enjoyed this book. I enjoyed seeing the banter between Grant and Wil and was really hoping for them to get together. Meanwhile when it came to Seth I didn't like him that well, plus he seems too eager to overcompensate with the lavish gestures that were too much. With Grant and Wil it was easy to see why they liked each other and were made for eachother. Overall this book was a really fun read I really enjoyed it. Highly Recommend.
Reading/writing YA is my oxygen.
I
love
funny. Funny ha-ha and funny weird. I also adore books that have kissy bits because love makes life's pointy edges more smooth. Cats, music, and lattes happen regularly in my home. Once upon a time I refueled helicopters for the US Army and threw live grenades. Now I throw words.
My Golden Heart-winning debut YA novel, SUMMER OF SUPERNOVAS, comes out from Random House/Crown May 2016.