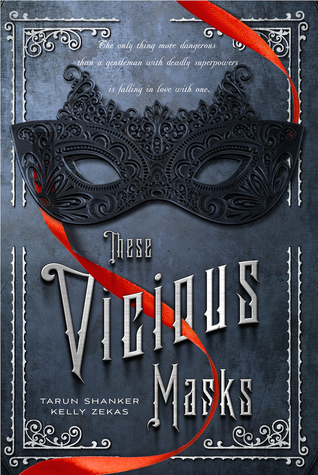 These Vicious Masks by Tarun Shanker & Kelly Zekas
(These Vicious Masks #1)
Genre
: Historical Fiction, Romance, paranormal,Young Adult
Pages
: 320
Purchase link
:
Amazon
Goodreads
:
Click
Synopsis:
Jane Austen meets X-­Men in this gripping and adventure-­filled paranormal romance set in Victorian London.
England, 1882. Evelyn is bored with society and its expectations. So when her beloved sister, Rose, mysteriously vanishes, she ignores her parents and travels to London to find her, accompanied by the dashing Mr. Kent. But they're not the only ones looking for Rose. The reclusive, young gentleman Sebastian Braddock is also searching for her, claiming that both sisters have special healing powers. Evelyn is convinced that Sebastian must be mad, until she discovers that his strange tales of extraordinary people are true—and that her sister is in graver danger than she feared.
Review:
Evelyn isn't one for society, dances and other social gatherings. For once in her life things get interesting when her sister Rose, goes missing. She will stop at nothing until she can recover her sister. She will go against her parents will, she would go against what society believes women should be like and do what she has to do to find her sister.
Honestly, I think the cover is what drawn me to check out this book, because otherwise I would've never picked up this book. Plus I have a thing for masks and that cover was just asking me to check out whats inside. Historical type of books aren't really my thing but the description mentioned something about Jane Austen and the fact that these characters have special abilities I thought it might interest me.
I love that this book was really interesting and it really kept my attention. I loved Evelyn's character she's a very strong and well-meaning person. She was loyal and loving that when her sister went missing, she went to look for her personally not waiting for anyone to tell her otherwise. She's quite a stubborn and snarky and I really love that. I love the aspect of the extraordinary abilities, it kept things interesting learning what different characters had. There was so much going on with twists and turns. And that ending to this book was not how I expected it to be. Overall pretty good story I enjoyed reading it and I look forward to seeing what happens next in the next book.