Unraveling You by Jessica Sorensen
(Unraveling You #1)
Goodreads
:
Click
Pages
: 252
Genre
: New Adult, Romance, Young Adult, Contemporary, Abuse, Dark, Drama, High School, Fictions
Published November 25th 2014 by CreateSpace Independent Publishing Platform
Purchase Link
:
Amazon
Free
!
Lyric Scott has always had a good life. Outgoing, spunky, and musically talented, she's constantly surrounded by family and friends, yet she still feels there's something missing.
Then she meets her new next-door neighbor Ayden Gregory. Mysterious, sweet, and sad, Ayden is the exact opposite of Lyric and exactly what she needs to fill the void in her life.
Ayden has been through more than most people and believes his life is always going to be rocky, so when he's suddenly adopted by the Gregorys, he's thrown for a turn. But even with a new, loving family, he still finds himself haunted by the memories of his old life. The only true breath of fresh air is when he's with his best friend, Lyric Scott.
As Lyric and Ayden grow closer, the lines of their friendship start to blur. But when Ayden's past unexpectedly pushes its way into his new life, their friendship and newfound attraction will be tested.
**A novel about Ella and Micha's daughter and Lila and Ethan's son from The Secret Series. However, this series can be read on its own.**
So far so good, not as dramatic as Jessica's other stories but great all the same. This book will really appeal to any age group but mostly to those who like YA books.
I really loved that this book branched off from the other book series as the children of previous characters, I already fell in love with Ella and Micha's book as well as Lila and Ethan's story, so when I found out that this series what their kid story, I really was unsure what to think. I've read many books from but I know this author hasn't disappointed me so I was looking forward to checking it out.
I loved the characters. Lyric was such a ball of positive energy working on making Ayden comfortable and to at least crack a smile once in a while. Meanwhile Ayden's past was a bit dark and interesting and I look forward to seeing more about what happened to him. This book was a pretty quick read, it was enjoyable, I thought the story line is interesting. Lucky for you out there there isnt' much of a cliff hanger ending but enough to make you want to check out what is in store for these characters. Overall its a great read and I can't wait to check out the next book.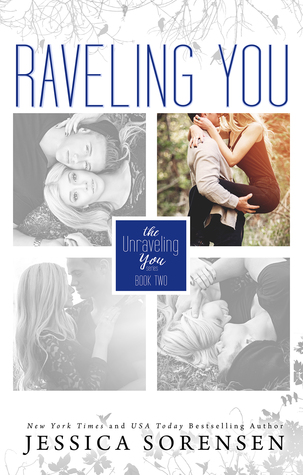 Raveling you by Jessica Sorensen
(Book 2)
Goodreads
:
Click
Purchase Link
:
Amazon
Pages
: 260
Published : January 13th 2015
Ayden Gregory may want to keep running from his nightmares, but he no longer has a choice. His past is catching up with him. And fast. He relies on one person to keep him from crumbling. His best friend Lyric Scott.
Lyric feels helpless watching her best friend's world turn upside down. But she does her best to remain positive and upbeat. She gets their band their first gig and even with everything going on, her relationship with Ayden starts to heat up.
But when danger enters Ayden's life again, even Lyric might not be able to help him.
Review:
If you haven't read the previous book it would probably be wise not to read this book or review first.
In the previous book it was revealed that Adyens brother was dead and his death as well as his killer still remain a mystery. If that wasn't bad enough Adyen and Lyrics friendship / relationship is left on rocky ground after that confusing kiss and they haven't talk to each other in about a month. When Lyric notices that Adyen hasn't been truthful lately as is hiding something she works on finding out what he's hiding. Things start to get complicated when Lyric notices a random stranger has been lurking around and not sure what to do with that bit of info.
I guess thats all I can write about this book and not spoil it for those of you who haven't read this book. Hopefully you have read the previous book so this review won't ruin it for you.
So as the story progresses the readers were able to dive deeper into the life of Adyen and what happened to him in the past that caused him to black out those memories. I thought it was interesting betting more glimpses into what is going on. I guess its that mystery that keeps me holding on this book. Its easy to love these characters and want to know more about them. I also loved reading how Lyrics was gaining the confidence to get past her stage fright. Theres not much to report on this book without ruining it so trust me when I say your going to want to check out this book as well as the previous book.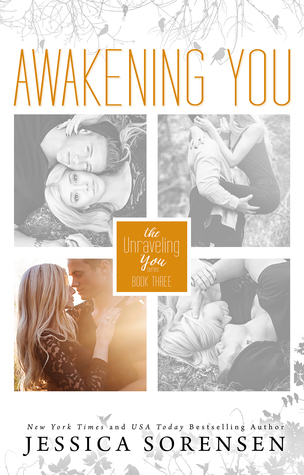 Awakening You by Jessica Sorensen
(Book 3)
Goodreads : Click
Purchase Link : Amazon
Pages: 264
Published March 24th 2015
Lately, life has been going well for Ayden. His relationship with Lyric is starting to heat up and his career in music is taking off. But the disappearance of his sister still weighs heavily on his mind.
Desperate to find out where his sister is, Ayden decides to take drastic measures. But his dangerous risk leads to the unraveling of secrets, and he's left facing a darker past then he ever could have imagined
Review:
Ever since Ayden has been going through therapy he seems to be getting more stressed out dealing with the memories that are slowly creeping up on him and the knowledge that his sister is still out there since she was kidnapped by the group they were save from. Painful memories coming at different times and his sleep walking is getting worse and he just cant seem to stop showing up were his sister last went missing. The only thing going well so far is that Ayden and Lyric's relationship seems to be going pretty well and they are slowly but surely taking things up a notch.
Again another great piece to Ayden's backstory and mystery of finding his sister. There isn't much to say without ruing the book or repeating what I've already said from the last book. I just loved watching how things progressed and seeing more out of the twos relationship. The mystery about his sister is sure to keep the readers wanting to know more about her. I can't wait to check out the next book.