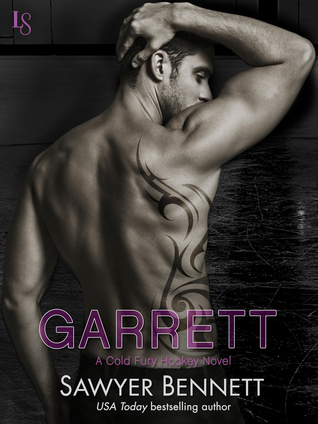 Garrett by Sawyer Bennett
Genre
: Contemporary, Romance, Sports, Hockey
Expected publication: February 17th 2015 by Loveswept
Carolina Cold Fury star Garrett Samuelson never wants to miss out on a single minute of fun. Whether he's playing hockey, hanging out with friends, or walking the red carpet with a new date on his arm, he lives every day to the fullest. When he meets Olivia Case, he sees someone who's exactly his type—confident, sexy, smart . . . his next fling. But the more he pursues her, the more Garrett shares a side of himself that other women don't normally get to see.
Olivia has been keeping a secret. While Garrett lives for the next thrill, Olivia's not sure she'll live to see the next day. She's undergoing treatment for some serious medical issues, and she doesn't have time for a relationship with no guarantees—especially one with a hot-as-sin womanizer who won't take no for an answer. But as she gets to know the real Garrett, Olivia can't help falling for him . . . hard. To reveal the truth would mean risking everything—but you can't score without taking the tough shots.
Just realized I'm one of the many lucky people able to get this book ahead of time and like many of them out there I rate this book a 5 of 5 Stars. I'm familiar with Sawyer Bennett's work so I already know that this would be nothing less then fantastic. I loved the first a book and absolutely loved this book as well. This book is apart of a series but can be read as a stand alone. I would recommend you check out the previous book so that you can appreciate and understand where some of the characters in this book come from. I loved their relationship between Olivia and Garrett. I loved the connection and the steamy scenes the between the two. There was just enough drama to keep things interesting. I loved that Alex and Sutton do make their appearances in this book. Overall this was a great book and I highly recommend you lovely readers take a chance at this book and put it on your TBR list.