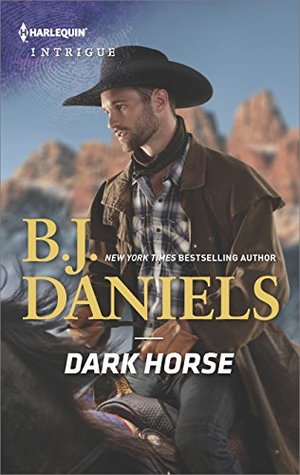 Dark Horse by B.J. Daniels
Genre: Mystery, Romantic Suspense, Suspense, Romance, Contemporary, Western,
Pages: 256
Published
: August 1st 2017 by Harlequin Intrigue
Burdened by family secrets, this cowboy rides alone
For twenty-five years, the case of the McGraw twins kidnapping has remained unsolved. As the eldest son, Cull oversees the McGraw horse ranch, wary of prying eyes. So when true-crime writer Nikki St. James comes forward with new information, Cull can't believe his father invites her onto the compound. His family has suffered enough—he's not about to let St. James snoop and ruin them completely. But Nikki finds the eldest McGraw's protectiveness as endearing as it is aggravating. After all, this case is personal to her, too… And her secrets can set the truth free—if they don't destroy the McGraws first
.
Whitehorse, Montana: The McGraw Kidnapping
Nikki is a true crime writer and along the way she tends to solve mysteries. Nikki was called my the father to write a book on the McGraw twins kidnapping, a mystery that had people thinking her father and the mother of the twins had something to do with it. Its been 25 years since the kidnapping and the father thinks Nikki can maybe help things out and his oldest son as well as his current wife is less then thrilled about her snooping around where she shouldn't be.
I loved this book, it kept me on my toes. I loved seeing the story and mystery of the missing twins unfold. I Loved that there was plenty of hints along the way to keep me guessing and changing my mind. I loved that I was sort of half right but still need to see more of what happens in the next book to see if my suspicions are right. I loved that even though there was that spark between Cull and Nikki that interest they had didn't over power the book, its not much of a romance but more a mystery if you are into that thing and with how this book turned out I'm all for it. I can't wait to see what happens next in the following book!