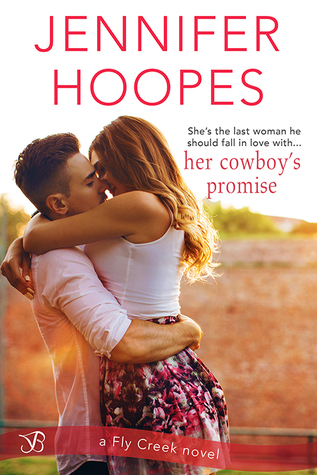 Her Cowboy's Promise By Jennifer Hoopes
Genre: Contemporary, Romance,
Pages: 208
Published :
July 17th 2017 by Entangled Bliss
Three years ago, artist Emily White's grief and survivor's guilt sent her to the small Wyoming town of Fly Creek. Since then, she's kept her emotions safely tucked away—until she meets the new rancher at Sky Lake Dude Ranch. Stetson in hand, the gorgeous cowboy's arrival in her store immediately shakes up her world.
Adam Conley is only in Fly Creek for as long as it takes to fulfill his promise to his late cousin. The small town brings up too many memories of the life he left behind years ago. He knows his task won't be easy, but the last thing he expects is the instant attraction to the reason he's in town. Emily is beautiful, vibrant, and completely off-limits. He's there to keep his promise—not fall in love.
But Adam's secret will crumble everything Emily's life has revolved around.
Even though I did enjoy this book, if I'm honest it did have its moments where it felt like it was dragging and I really have to push myself to read or get through some point of the book. Even with that said, I really did like the book the characters where book, the story line was interesting and when it came down to the story in general it was a pretty good book. Maybe it's me, maybe I just wasn't in the mood to read it. The book does have its generic story line that I usually find appealing there just wasn't enough in this book to really be different and stand out with its own set of drama. Overall I'd rate this book 3 of 5 stars.