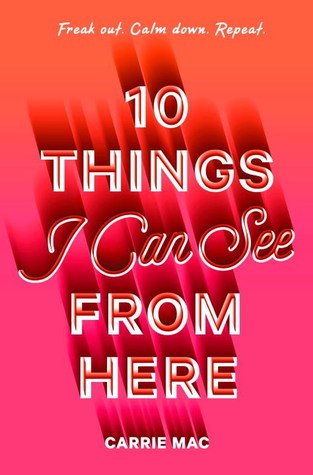 10 Things I Can See From Here by Carrie Mac
Genre: Young Adult, LGBT, Contemporary, Mental Health, Romance
Pages: 320
Perfect for fans of Finding Audrey and Everything, Everything, this is the poignant and uplifting story of Maeve, who is dealing with anxiety while falling in love with a girl who is not afraid of anything.

Think positive.
Don't worry; be happy.
Keep calm and carry on.

Maeve has heard it all before. She's been struggling with severe anxiety for a long time, and as much as she wishes it was something she could just talk herself out of, it's not. She constantly imagines the worst, composes obituaries in her head, and is always ready for things to fall apart. To add to her troubles, her mom—the only one who really gets what Maeve goes through—is leaving for six months, so Maeve will be sent to live with her dad in Vancouver.

Vancouver brings a slew of new worries, but Maeve finds brief moments of calm (as well as even more worries) with Salix, a local girl who doesn't seem to worry about anything. Between her dad's wavering sobriety, her very pregnant stepmom insisting on a home birth, and her bumbling courtship with Salix, this summer brings more catastrophes than even Maeve could have foreseen. Will she be able to navigate through all the chaos to be there for the people she loves?
All I knew about this book was that it had a characters with anxiety and I've seen one or two people mention the book with no opinion so I sought out to see for myself how good this book was. Plus, have you seen the cover its bright af and I love a good cover that can catch my eye. Plus without the cover its yellow, I rarely come across a book with a yellow cover, or at least undercover part so it appealed to me. Plus that little detail of the owl was cute.
Trust me when I say all you have to do is read the first page to the book and you'll be sucked in.
I found the main character interesting, slightly annoying with her nagging but I got used to her quirky behavior,even saw myself a bit in her with her constant worrying. I thought it was interesting seeing her life with her fathers side of the family being that her mother was off to Haiti for six months. I loved seeing how her brain worked in general, must be exhausting thinking the way Maeve does. I'm a worrying sort of person but it didn't seem to stop when it came to her. I enjoying seeing how wierd and awkward things turned out for her and Salix. I loved how understanding Salix was when it came to Maeve. I loved seeing Maeve finaly speak out in different situations when something bothered her.
Then there comes that point in the book nearing the ending with her friendship with Ruthie. There was a topic that surprised me. I'm not sure why it did, I was confused at first and thought about how I never heard about situations like that. I suppose what comes after should be clear about what it is (ARG so difficult I know I'm being vague but I want to talk about it and not sure how, especially since I don't want to ruin the book for you readers who haven't read the book yet) But that situation was clear, but okay I was just as confused at Maeve and I was happy that Salix was there to clearly state things and I just really loved how it turned out. Nicely handled situation.
Overall I enjoyed this book it was really good and I had a hard time putting down the book. Highly Recommend.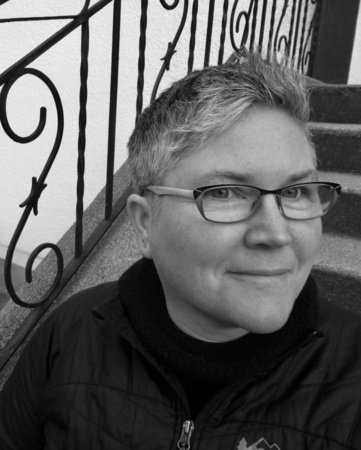 Award-winning author
Carrie Mac
is well-known for her adeptness at captivating young adult audiences; she has written ten books for young adults, and won the 2010 Sheila A. Egoff Book Prize for her previous work,
The Gryphon
Project
. She lives with her family in Vancouver, BC.