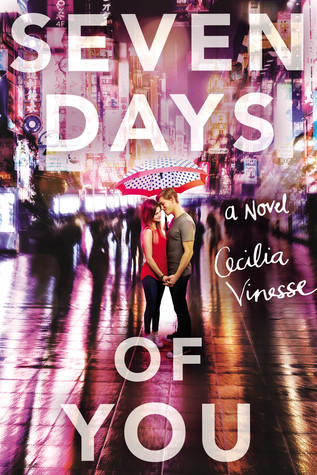 Seven Days of You by Cecilia Vinesse
Genre: Young Adult, Contemporary, Romance, Japan, Travel, Fiction,
Pages: 336
Published: March 7th 2017 by Little, Brown Books for Young Readers
Sophia has seven days left in Tokyo before she moves back to the States. Seven days to say good-bye to the electric city, her wild best friend, and the boy she's harbored a semi-secret crush on for years. Seven perfect days…until Jamie Foster-Collins moves back to Japan and ruins everything.
Jamie and Sophia have a history of heartbreak, and the last thing Sophia wants is for him to steal her leaving thunder with his stupid arriving thunder. Yet as the week counts down, the relationships she thought were stable begin to explode around her. And Jamie is the one who helps her pick up the pieces. Sophia is forced to admit she may have misjudged Jamie, but can their seven short days of Tokyo adventures end in anything but good-bye?
Sophia got seven bitter sweet days to say good bye to her life in Tokyo. Of course things couldn't say good when she finds out that Jamie is back and thing get complicated. Now her feelings are pretty much as the count down begins learning more about herself, her friends and everything. Not every thing as it seems and shes got plenty of growing up before the move.
I don't think I even read the description of this book when I requested to review it, I think it was the cover that drawn me in. I think that this is the first time I've read a book based in Tokyo so it was interesting reading the different settings and stuff that I'm not used to reading about. I thought it was interesting seeing Sophia's point of view in how she was handling the different situations that were being thrown at her. I've read in different places that this book can appeal to readers who like Anna and the French Kiss and I can agree to that. I really enjoyed this sweet coming of age book and it was a pretty good book.