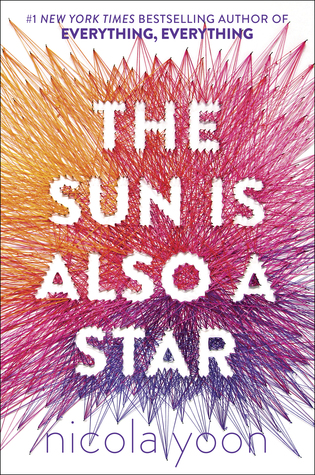 The Sun is Also a Star by Nicola Yoon
Genre: Contemporary, Romance,
Pages: 344
Expected Publication : November 1st ,2016 Delacorte Press
Natasha: I'm a girl who believes in science and facts. Not fate. Not destiny. Or dreams that will never come true. I'm definitely not the kind of girl who meets a cute boy on a crowded New York City street and falls in love with him. Not when my family is twelve hours away from being deported to Jamaica. Falling in love with him won't be my story.

Daniel: I've always been the good son, the good student, living up to my parents' high expectations. Never the poet. Or the dreamer. But when I see her, I forget about all that. Something about Natasha makes me think that fate has something much more extraordinary in store—for both of us.

The Universe: Every moment in our lives has brought us to this single moment. A million futures lie before us. Which one will come true?
There is so many reasons that this book is amazing and I would love to gush about this book but alas it isn't going to be out for a bit of time and don't want to spoil it. I'll try to keep this review free of spoilers as much as I can.
One thing I loved about this book was how each character were described. It feel like I understand and really know Daniel and Natasha's characters and I loved them. I loved that even the littlest character that made a minor role or change to the path their life was taken had their own part. Like just a random security guard, passing BMW driver or the subway conductor. These characters didn't have much for them and no matter how insignificant they were, each had their own side to what was going on and I appreciate getting to know them even briefly.
The facts and the minor histories of different stuff got their own moment to shine as well and put more depth into the story. It just added a bit more being able to describe a certain random thing they both talked about like the possibility of a multiverse. Like it was nice and all that they talked about it but then there was a whole little section of facts that would talk about it and it made the book that more interesting.
I loved how Daniel planned on winning Natasha's heart using since and how he heard about this article on a scientific way to get two people to fall in love. I feel like I've heard about what Daniel was talking about before. Through some video clip, I could be mixing that up. Loved the face that he was using Science as a way to get Natasha to love him meanwhile shes a skeptic who love facts. They both are so different and I loved seeing how their brief relationship worked.
I loved how the overall writing style was with the book with how the sections were, like how the chapters were. Meaning the whole different POV and facts, how everything was laid out in the book. It was interesting and Unique I'm not sure I've come across a book like that. I don't even think I could compare it to the author's other book Everything, Everything because I listened to it on audiobook a while ago so not sure if its in the same style.
Overall I loved this book it was amazing, and I can't think of another book that I've read this year that had me go through plenty of emotions. Oh and that ending. Oh god that ending. I loved it so much. The ending it not how i expected it to turn out but loved it just the same. Such a fantastic book. If you haven't put this on your tbr pile then you need to this book is not something your going to want to miss.