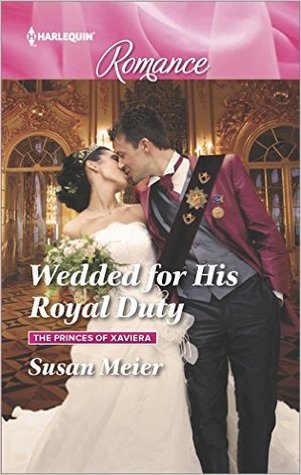 Wedded for His Royal Duty by Susan Meier
Genre: Contemporary, Romance, Harlequin
Purchase Link : Amazon | B&N
Pages: 256
Published July 1st 2016 by Harlequin Romance
Marrying the shy princess…
When playboy prince Alexandros Sancho discovers he's inherited his older brother's betrothed, he's horrified! Princess Eva Latvaia might be beautiful, but his belief in marriage died with his first love. However, walking down the aisle is his royal duty…unless he can persuade Eva to break the engagement herself?
Except Alex's plan backfires—far from putting her off, he finds himself falling for the warm but shy princess! Now he must convince sweet-hearted Eva he wants her as his royal bride—for real!
Princess Eva was set to marry Alexandros older brother as part of a treaty but ended up marrying someone else. Which then lead Alexandros with getting stuck with Eva and marrying her he the last thing he needs. He's on a mission to convince her to stop this wedding thats supposed to take place and shes on a mission to fix whats wrong with her family and will try to convince him otherwise.
Overall this was a pretty fun and enjoyable book. It was a light read, there is a certain situation that was going on with the book that lead me to believe that there might be some type of suspense, mystery kind of thing and I was waiting for things to go south - Which ultimately never did happen but this book good anyway. This book is clean so for you readers who are looking for a sweet book with romance and is clean you might want to get you hands on this book.