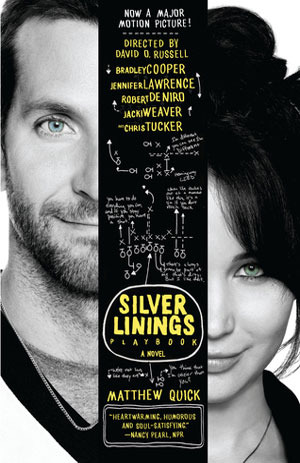 The Silver Lining Playbook by Matthew Quick
Genre: Fiction, Contemporary, Romance, Mental Health, Mental Illness, Movies, Drama, Realistic Fiction
Pages: 289
Goodreads: Click
Purchase Link:
Published October 16th 2012 by Farrar, Straus and Giroux
Meet Pat. Pat has a theory: his life is a movie produced by God. And his God-given mission is to become physically fit and emotionally literate, whereupon God will ensure a happy ending for him -- the return of his estranged wife Nikki. (It might not come as a surprise to learn that Pat has spent time in a mental health facility.) The problem is, Pat's now home, and everything feels off. No one will talk to him about Nikki; his beloved Philadelphia Eagles keep losing; he's being pursued by the deeply odd Tiffany; his new therapist seems to recommend adultery as a form of therapy. Plus, he's being hunted by Kenny G!
In this enchanting novel, Matthew Quick takes us inside Pat's mind, showing us the world from his distorted yet endearing perspective. As the award-winning novelist Justin Cronin put it: "Tender, soulful, hilarious, and true,
The Silver Linings Playbook
is a wonderful debut."
I was originally reading this book for the #booktubeathon read & watch a book to movie and I chose Pride & Prejudice as my choice. After so long of not reading it this challenge gave me that push I needed. I loved that book and I loved this book but I did not enjoy that movie. I'll end up watching Pride and Prejudice as my read & watch the book movie challenge.

Now tell me lovely readers are you following along with this challenge? What books have you read. Are things going as you'd hoped. What book to movie challenge did you pick leave your comments below!