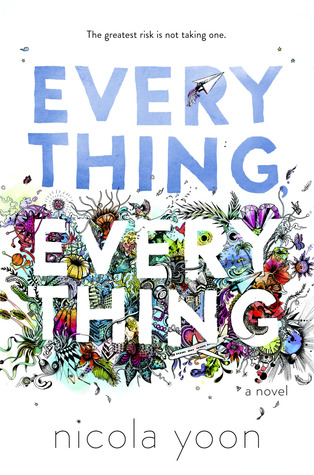 Everything, Everything by Nicola Yoon
Genre: Young Adult, Romance, Contemporary, Fiction,
Purchase Link: Amazon
Pages: 310
Published September 1st 2015 by Delacorte Books for Young Readers
My disease is as rare as it is famous. Basically, I'm allergic to the world. I don't leave my house, have not left my house in seventeen years. The only people I ever see are my mom and my nurse, Carla.
But then one day, a moving truck arrives next door. I look out my window, and I see him. He's tall, lean and wearing all black—black T-shirt, black jeans, black sneakers, and a black knit cap that covers his hair completely. He catches me looking and stares at me. I stare right back. His name is Olly.
Maybe we can't predict the future, but we can predict some things. For example, I am certainly going to fall in love with Olly. It's almost certainly going to be a disaster.
Maddie has a condition that forces her to stay home or face getting sick and dying. Its all the life shes ever known and it wasn't until the next door neighbors moved in and Olly make her curious for something more. Now Maddie no longer wants to accept the way things are she wants more, needs more.
Wow, this was such a fun and interesting book. I've recently read Probability of Miracles and I was recommended this book. I figured it was the same thing just different names and situations that eventually comes to certain end. This book didn't turn out how I expected and had a hard time putting this book down. I loved reading this book and I loved characters. This book had one point of view, I usually will lean towards the book that have multiple point of views to get more info on the other characters but this one POV was enough I loved maddie's character.This book was so well written, and fast paced no dull moments at all. Overall I loved this book and I highly recommend you lovely readers to check this book out.