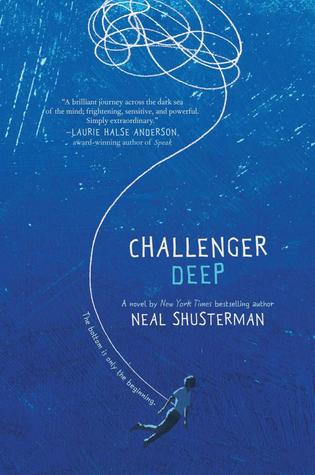 Challenger Deep By Neal Shusterman
Genre: Young Adult, Contemporary, Realistic Fiction, Mental Illness, Mental Health, Psychology, Fantasy,
Goodreads: Click
Pages: 308
Published April 21st 2015 by HarperCollins
Caden Bosch is on a ship that's headed for the deepest point on Earth: Challenger Deep, the southern part of the Marianas Trench.
Caden Bosch is a brilliant high school student whose friends are starting to notice his odd behavior.
Caden Bosch is designated the ship's artist in residence, to document the journey with images.
Caden Bosch pretends to join the school track team but spends his days walking for miles, absorbed by the thoughts in his head.
Caden Bosch is split between his allegiance to the captain and the allure of mutiny.
Caden Bosch is torn.
A captivating and powerful novel that lingers long beyond the last page, Challenger Deep is a heartfelt tour de force by one of today's most admired writers for teens.
Another great book that did romanticize the illness. This book left me confused and amazed by what was going on through his mind. I haven't come across a character was was quiet this deep in his illness was it was surprised what he though was going on, I'm actually surprised that the parents didn't get him help sooner because the way he was acting I think his parents should've at least had him checked out before things progressed as it did.Overall a really great and interesting book.