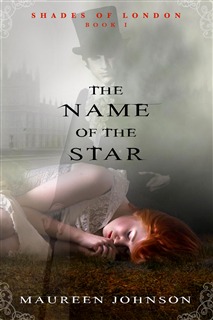 The Name of the Star by Maureen Johnson
(Shades of London)
Pages
: 372
Genre
: Mystery, Paranormal, Fantasy, Ghosts, Young Adult
Goodreads
:
Click
Synopsis:
The day Louisiana teenager Rory Deveaux arrives in London marks a memorable occasion. For Rory, it's the start of a new life at a London boarding school. But for many, this will be remembered as the day a series of brutal murders broke out across the city, gruesome crimes mimicking the horrific Jack the Ripper events of more than a century ago.
Soon "Rippermania" takes hold of modern-day London, and the police are left with few leads and no witnesses. Except one. Rory spotted the man police believe to be the prime suspect. But she is the only one who saw him. Even her roommate, who was walking with her at the time, didn't notice the mysterious man. So why can only Rory see him? And more urgently, why has Rory become his next target? In this edge-of-your-seat thriller, full of suspense, humor, and romance, Rory will learn the truth about the secret ghost police of London and discover her own shocking abilities.
Review:
Rory is excited about starting a new school year in a London boarding school.Things start to get interesting when a series of murders occur near her school very much like the Jack The Ripper Murders. Thing is no one can see the murderer which frightens everyone. Whats strange is that she is able to see this murderer and unfortunately caught his eye.
Overall I thought that this was really interesting book.I wasn't sure how it would turnout. I've never read a book that had anything to do with Jack the Ripper. I know of the story maybe little snippets of heard on t. but nothing really that stood out to me. After this reading this it's really got me interested I kind of want to look into it. The story was really well written and I was hooked from the very start. I loved it there was so much details that looks quite vivid in my mind with how things were described.
I can't wait for the next book to see what happens next. I would wait this book 5 of 5 stars and because it was a really fun books to read and it's the type of book I would reread and recommends others.