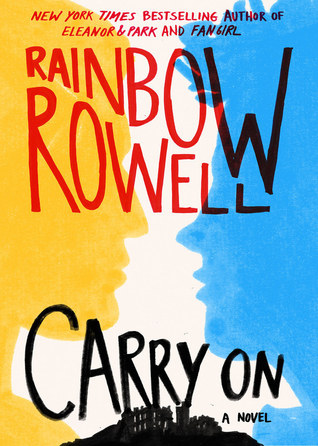 Carry On by Rainbow Rowell
Goodreads
:
Click
Genre
: LGBT, Fantasy, Young Adult, Romance, Fiction, Magic, Vampire, Contemporary, Paranormal,
Purchase Link
:
Amazon
Pages
: 522
Synopsis:
Simon Snow is the worst chosen one who's ever been chosen.
That's what his roommate, Baz, says. And Baz might be evil and a vampire and a complete git, but he's probably right.
Half the time, Simon can't even make his wand work, and the other half, he sets something on fire. His mentor's avoiding him, his girlfriend broke up with him, and there's a magic-eating monster running around wearing Simon's face. Baz would be having a field day with all this, if he were here—it's their last year at the Watford School of Magicks, and Simon's infuriating nemesis didn't even bother to show up.
Carry On
is a ghost story, a love story, a mystery and a melodrama. It has just as much kissing and talking as you'd expect from a Rainbow Rowell story—but far, far more monsters.
Review:
Simon is terrible at being the chosen one and very good at getting all his spells to backfire. If that weren't bad enough his roommate, Baez is a vampire and he swears that Baez is out to get him. But this year where Baez doesn't show up for a while in school he is sure that he is hatching up another plan to take simon down. Things get complicated when Baez's dead mother comes back looking for him and leaves Simon a message that her killer is still out there and must find out who it is.
You know what, the more I tried to describe this book the more it seems like I was giving spoilers so I'll stop there. I really enjoyed this book. It was fun, silly, it was ridiculous at times.I was surprised when I heard about this book I can remember recently reading Fangirl and realized that this was from those books that she was fangirling over. When I read Fangirl I was assuming I was just going to be like Harry Potter series but switched names. Well it kinda was, sort of. Not sure how to describe it. The characters were switched around with different stories, backgrounds, different goals but there was a hint of it that I couldn't help but compare it to. I guess this book would be Rainbow Rowell's version of HP? Not sure. Please give your comments below so if you get what I'm saying or thought the same. I really enjoyed this book though. It was fun and interesting. It was not at all what I would have expected it to be.
Overall I would recommend you lovely readers to check out this book, especially if your a fan of Rainbow Rowell's book Fangirl.