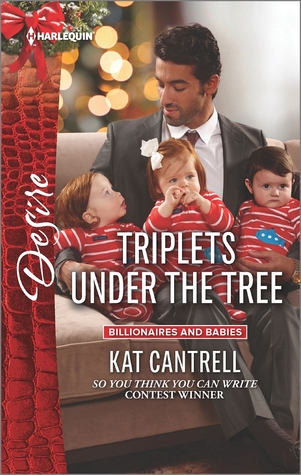 Triplets Under the Tree by Kat Cantrell
Genre
: Contemporary, Romance, Holiday,
Goodreads
:
Click
Purchase
Link
:
Amazon
Pages
: 192
Synopsis:
This Christmas, he'll meet his three babies for the first time...and desire their mother in a whole new way!
After a plane crash robs him of his memory, billionaire fighter Antonio Cavallari comes home for the holidays to find triplets--and their "mother"--waiting. Antonio doesn't remember surrogate Caitlyn Hopewell, but he has triplets depending upon him. Who else can he turn to except the woman raising his children...and making him burn with desire?
Caitlyn has longed for Antonio secretly for years. Now she's living in his home, loving his babies, living the life with him she's always wanted. But then Antonio's memory returns. And the secrets he's forgotten will change everything...
Review:
It's been a year since Caitlyn mourned the lost of her sister and brother in law Antonio. Since then she's been living in their old home with their triplets whom she was surrogate mother to. Imagine her surprise when he shows up a year later missing his memory.
I love it when a cover matches the book and this cover suited it perfectly. I thought that this book was a fun, enjoyable, short and enjoyable. Its based off during the christmas season so for those of you who are looking for holiday focused books with the bit a steaminess this book just might be for you. I loved how this book turned out I liked the attraction between the two. I loved that there was enough drama to keep things interesting with every memory surfaced there a bit more information learning about the type of person Antonio was. Overall a great story I really enjoyed it.