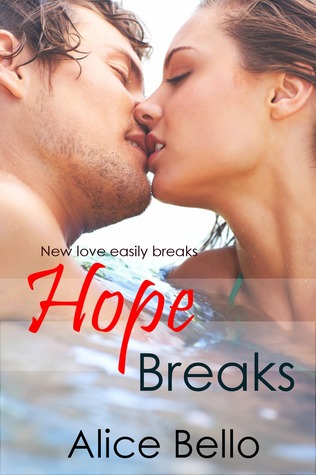 Hope Breaks by Alice Bello
(Hope Trilogy #1)
Pages
: 118
Genre
: Chick Lit, Funny, Humor, Erotica, Short Stories, Contemporary, Romance, Novella, New Adult
Goodreads
:
Click
Published April 29th 2013 by Smashwords
Synopsis:
Hope Jones has two problems: one is new, the other is depressingly old.

The new problem: the bestselling author the publisher she shoots romance novel covers for hates her newest batch of covers. She has until the end of the week to come up with a breathtaking shot or she'll be replaced. And there's a sudden model shortage; they're out of season.
The old, depressing problem: she hasn't had a date, sex or a relationship in over two years.

She also has one hell of a headache.

Hope finds the cures for her two problems during a search through Wal-Mart for a painkiller to kill her headache.

Turns out the aisles of the retail giant are rampant with hot young model worthy specimens. And when her trusty Ford Taurus breaks down in the parking lot, a hunky mechanic in the Tire and Lube Express department fixes more than just her car.

Seemingly her troubles are good as gone…but then her new, fabulous cover is rejected, and in a desperate moment she has to choose between keeping her job and keeping the man she's just starting to fall in love with.
Review:
Hope is in a rut where shes got a deadline to shoot a cover photo for an author but models are hard to come by. When she heads to the nearest Wal-Mart imagine her surprise when she comes across a few hott males just perfect for the cover. While leaving the store she finds out that her car is messed up and the mechanic seems to be just what she needs for her car and herself. Things are starting to look up until she is faced with a situation to choose the guy or her career.
When I saw the word The End I was like Whaaa???? Thankfully there is a next book because that is no way to end the book I wanted more and instantly looked towards finding the second book.This book is apart of a trilogy for those of you who are just coming across this book. I really enjoyed this book. There was humor, bit of drama and steam to keep things interesting. This book was pretty short, so good if you are pressed for time. I liked the characters. It was an overall fun read can't wait to see what happens next.