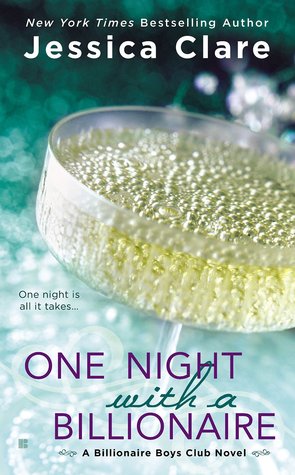 One Night with a Billionaire by Jessica Clare
(Billionaire Boys Club #6)
Genre
: Contemporary, Romance, Music, Erotica, Adult, Chick Lit, New Adult
Goodreads
:
Click
Pages
: 294
Expected publication: June 2nd 2015 by Berkley
The New York Times bestselling author of The Wrong Billionaire's Bed delivers a delicious new novel about a secret society of six men who are incredibly wealthy—but not always so successful when it comes to love…
Kylie may be a makeup artist to the stars, but she knows what it feels like to be overshadowed. Especially by her famous boss, the pop star Daphne. That's why she's stunned—and delighted—when one night at a party, she attracts the attention of a gorgeous stranger. But when Daphne decides she wants the handsome billionaire for herself, Cade Archer is suddenly off-limits for Kylie…
Cade has known Daphne for years, and always wondered if she might be the right woman for him—even though she never gave him the time of day. But one sizzling night with Kylie has changed everything. So why is she suddenly avoiding him? Fortunately Cade is determined to get what he wants, and he'll do anything to show Kylie she can get everything she wants too…
"I absolutely loved the characters and thought Kylie was perfect for Cade. I am so glad he finally got his Happily Ever After!" ~ Cocktails and Books
So apparently I just jumped right into a series without knowing it as well as not knowing what this book was even bout. Just simply knowing that Jessica Clare wrote it I accepted the ARC copy for this book and starting reading. Trust me this book doesnt disappoints.
I loved that that Kylie was a strong women who is working towards being independent, learning from a very young age that she was a burden . She is also a big beautiful women who uses her skills of make up to make not only her self but others confident. I loved that Kylie used her past to build her self up, she used her past to make herself more independent and caring. After what her grand mother put her through she could've just dumped her senile grandmother with someone else but was caring enough to help her. I thought Cade's characters was interesting, hes your basic billionaire with the blonde hair, caring, helpful and loyal ways. He's dealt with alot dealing with Daphne crap and learning to get past her. I loved that there was the dual point of view which helped me love each charater more. I loved that there was enough drama, romance, and steamy scenes to keep things interesting.
Overall this was a fantastic book and I loved it. I look forward to seeing more from the others books as well as looking forward to any books that may come after this.
Billionaire Boys Club Series:
Jessica Clare is a New York Times and USA Today Bestselling author who writes under three different names. As Jill Myles, she writes a little bit of everything, from sexy, comedic urban fantasy to zombie fairy tales. As Jessica Clare, she writes erotic contemporary romance.
She also has a third pen name (because why stop at two?). As Jessica Sims, she writes fun, sexy shifter paranormals. She lives in Texas with her husband, cats, and too many dust-bunnies. Jill spends her time writing, reading, writing, playing video games, and doing even more writing.