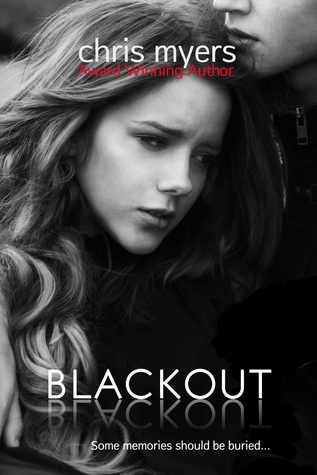 Blackout By Chris Myers
Genre: New Adult Romance, Suspence, Drama, Dark, Contemporary
Release: April 2015
Some memories should be buried…
The blackouts started happening when I was eight. There are long periods of my youth I don't remember. I've woken up in strange places, feeling disoriented and unaware of how long I've been out.
After two years abroad attending a private school and sessions with a top-notch psychiatrist, I've been deemed cured. The blackouts have ceased, or so I thought, until I wake up in a ditch back home in North Carolina. Dare, the guy pulling my broken body from the wreckage, has a restraining order against him. He's no longer the clean-cut boy I went frog gigging with but road-hardened. His lean, muscular arms, riddled with tats, drag me out of the SUV. I should fear him, but instead, his touch sparks memories that tell me I once worshipped him with all my heart.
Wow, this was a

fantastic

book. There was enough drama, mystery and steam to keep to keep the readers wanting more. Then there was the twist and turns to keep the readers on the edge of their seats at other points. I loved this book. The characters were

interesting

, there was the dual point of view and a back stories on characters to make the readers love them even more. I loved watching the attraction between Dare and Teal. As the story unraveled I loved that it wasn't so easy to guess and just when you think you know whats going to happen something else throws you to a different assumption.
Overall I found this book interesting, with a unique story line and vivid description of things that were occurring throughout the book. I loved this and would recommend you lovely readers to check out this book.
Chris Myers suffers from an overactive imagination. She spent her high school years writing torch songs for fantasy guys then moved onto writing thrillers, new adult, and young adult. She has a real job but would love to write full time. Her books have won and placed in the finals and semifinals for several awards including Paul Gillette, Rocky Mountain Gold, and Amazon Breakthrough Novel. Chris lives in Colorado with her daughter, her better half, and BeBe, a rambunctious Bichon.