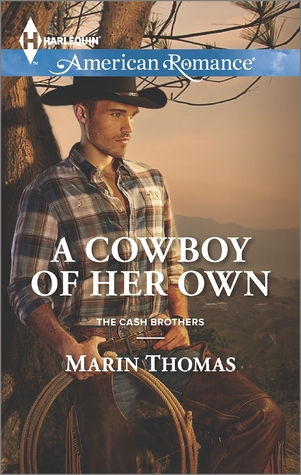 A Cowboy of her Own by Marin Thomas
Pages
: 224
Expected publication: January 6th 2015 by Harlequin
He wasn't looking for love
Fun-loving Arizona rodeo cowboy Porter Cash has always been more interested in having a good time than a steady paycheck. But to realize his dream of owning his own ranch, Porter needs this new job delivering roughstock to rodeos. What he doesn't need is a too-serious, too-smart and too-sexy-for-her-own-good copilot on the trip. 
When savvy insurance adjuster Wendy Chin joins Porter for the haul, she is all work and no play. But soon, business turns to pleasure and Wendy is conflicted. Her heart wants Porter, but her strict Chinese-American parents will never support the match. Can Porter find a way to prove to Wendy that, when it comes to love, he's not fooling around?
Wendy comes from a strict family and while her parents are trying to set her up with a nice successful Chinese man, Wendy just isn't into it. While shes on an investigation on Porter and others and must keep her eye on him. Little did she know that she'd fall for him. Now they must figure out who is behind the reason shes on the investigation and get her parents to let her or at least accept her to continue a relationship with Porter,
This was an enjoyable and short book it only took me a couple hours to read because I just could'nt put it down. I loved the chacters. I loved how family oriented they were. I found it interesting the troubles that the couple when through. I loved the connection between Porter and Wendy. There was just enough drama to keep me wanting more. I also want to point out that I love the cover suits the book well. Overall I really enjoyed this book.