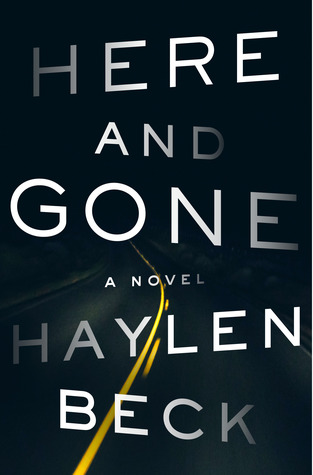 Here and Gone by Haylen Beck
Genre: Thriller, Mystery, Suspense, Fiction, Crime, Contemporary,
Pages: 287
Here and Gone is a gripping, wonderfully tense suspense thriller about a mother's desperate fight to recover her stolen children from corrupt authorities.
It begins with a woman fleeing through Arizona with her kids in tow, trying to escape an abusive marriage. When she's pulled over by an unsettling local sheriff, things soon go awry and she is taken into custody. Only when she gets to the station, her kids are gone. And then the cops start saying they never saw any kids with her, that if they're gone than she must have done something with them...
Meanwhile, halfway across the country a man hears the frenzied news reports about the missing kids, which are eerily similar to events in his own past. As the clock ticks down on the search for the lost children, he too is drawn into the desperate fight for their return.
The only thing I regret is not reading this book sooner. At first it sounded interesting, its was very different from what I normally read so I was curious. I attempted picking up this book multiple times and not sure what happened, guess I wasn't in the mind set. It wasn't until earlier today that I actually sat down and got into the book and once I started I was sucked into this book. Audra had it tough growing up and then managed to land herself into a abusive relationship and the one good thing that she did for herself and her children and managed to land herself into a twisted crooked cop situation. I've never read books starring crooked cops so I found it fascinating getting his side of the story and see how and why he did what he did. I also loved getting the POV of other characters as well. Normally when a book strays from just two POV I can find a book confusing and overwhelming but when it came to this book it was easy to know who was who and it was easy to follow. I loved getting to konw Audra's children POV and seeing the strength in her son and how what great intuition he had seeing through people and get things done to help him and his sister. You know what I'm going to stop telling you more details, just pick up this book and check it out. I truly enjoyed this books and think its worth a reread.