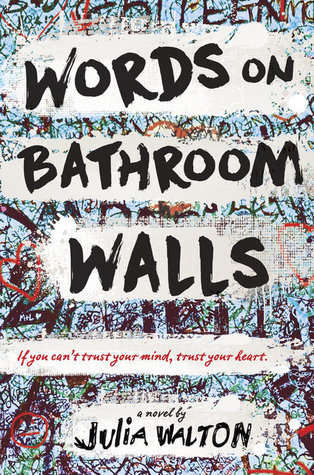 Words on Bathroom Walls by Julia Walton
Genre: Contemporary, Young Adult, Mental Illness, Mental Health,
Pages: 305
Published July 4th 2017 by Random House Books for Young Readers
Fans of More Happy Than Not, The Perks of Being a Wallflower, and It's Kind of a Funny Story will cheer for Adam as he struggles with schizophrenia in this brilliantly honest and unexpectedly funny debut.

Adam has just been diagnosed with schizophrenia. He sees and hears people who aren't there: Rebecca, a beautiful girl who understands him; the Mob Boss, who harasses him; and Jason, the naked guy who's unfailingly polite. It should be easy to separate the real from the not real, but Adam can't.

Still, there's hope. As Adam starts fresh at a new school, he begins a drug trial that helps him ignore his visions. Suddenly everything seems possible, even love. When he meets Maya, a fiercely intelligent girl, he desperately wants to be the great guy that she thinks he is. But then the miracle drug begins to fail, and Adam will do anything to keep Maya from discovering his secret.
Adam has schizophrenia and learning to cope with of seeing people who aren't there with a trial drug. He's in a new school and can actually start over with people who don't know him which is nice enough. At this school Adam meets Maya and he wants to be a better person and hide his schizophrenia. It was working until cdhis meds stop working and things start to slowly go down.
"It's funny how sometimes your own hallucinations can hurt you without touching you or saying anything you didn't already know."
After reading the description of the book and hearing that it would appeal to those who are fans of The Perks of Being a Wallflower (Which is my favorite book) along with a few others I knew this book was right for me. I just found myself so hooked to Adam as a character, this is my second time reading about a character with schizophrenia and I loved the different take in this book. Adam was a realistic type of guy who says what he thinks but then again, I can remember a few points there he pretty much was able to get that courage being that he wasn't telling anyone but writing it. I loved that he was self aware of what was going on and seeing how he dealt with what he was seeing. I thought it was interesting that little touch of what med he was taking and seeing it progressively get higher and how we was in certain states in how he was able to deal with certain moments of his schizophrenia. But I think the real eye opener for me was how people were treating him. Treating him as if he was a dangerous creature that shouldn't be around others which was tough and sad to see. It was a realistic and sad truth that many people think of this mental health issue is something to be afraid of. It just seems so strange to me. I got family members with different mental health issues so seeing something out of the norm is something that normal for me so seeing someone with a different issue, isn't intimidating or scary. So for a person to be scared or worried about a person with a different mental health such as schizophrenia is so strange to me. I would rather made it a learning opportunity and learn about the mental illness, rather then be afraid.
"Is it strange watching your world crumble around you, knowing there's nothing you can do about it? I imagine it's strange."
Back to the review, any who this book was a pretty enjoyable contemporary read and I enjoyed this. I think if you read Made You Up by Francesca Zappia you would be interested in this book as well with the POV of a character with schizophrenia. Or in general if you read and loved this book you might enjoy Made You Up as well. Overall Highly recommend you lovely readers to check out this book, I didn't think I would love this book as much as I did.