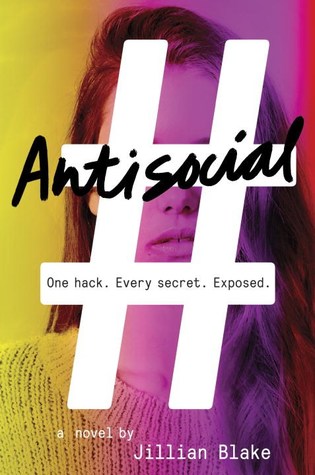 Antisocial by Jillian Blake
Genre: Young Adult, Contemporary, Mystery, Fiction, Social Media,
Pages: 256
6 hours and 30 minutes
Alexandria Prep is hacked in this whodunit set in the age of social media and the cloud.
Senior spring at Alexandria Prep was supposed to be for sleeping through class and partying with friends. But for Anna Soler, it's going to be a lonely road. She's just been dumped by her gorgeous basketball star boyfriend—with no explanation. Anna's closest friends, the real ones she abandoned while dating him, are ignoring her. The endearing boy she's always had a complicated friendship with is almost too sympathetic.
But suddenly Anna isn't the only one whose life has been upended. Someone is determined to knock the kings and queens of the school off their thrones: one by one, their phones get hacked and their personal messages and photos are leaked. At first it's funny—people love watching the dirty private lives of those they envy become all too public.
Then the hacks escalate. Dark secrets are exposed, and lives are shattered. Chaos erupts at school. As Anna tries to save those she cares about most and to protect her own secrets, she begins to understand the reality of our always-connected lives:
Sometimes we share too much.
Anna pretty much ditched her friends after getting herself a boyfriend and now that's its over she wants to go back to them. As you'd imagine some are okay with the idea and then there's some not interested but shes willing to make it work. Then in come a a list and then their classmates dirty little secrets being spilled. As every ones secrets expose Anna is doing everything she can to find out who it is before her secrets get outed knowing that it'll make her lose the friends shes trying to gain back.
I loved this book more then I thought it would. This book is pretty awesome in a way and will really make the readers think. I mean social media is a lot of peoples lives and so many things are say things and do things that aren't meant to be said for the public view and knowing that a person situation can be outed is pretty scary. Most things posted on the Internet will never go away and as many of the characters in this book were seniors looking towards their futures and collage and such it would really jeopardize that. So this book is pretty eye opening. I thought this would be a light read but I got something out of it. Then we got Anna as a character working through her anxiety and seeing how it impacted her and how shes working through things. Lastly when I hear about characters with anxiety they pop a pill to help themselves and not look for an outlet other then that which I thought was interesting. Overall this was a pretty great mystery book and I really enjoyed it.