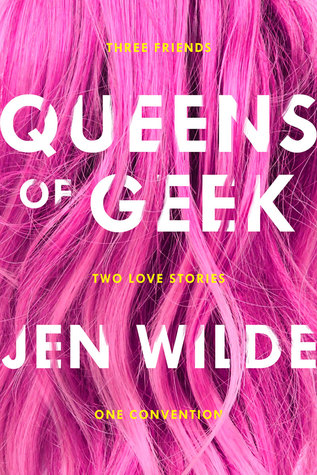 Queens of Geek by Jen Wilde
Genre: Contemporary, Romance, Younge Adult
Pages: 288
When BFFs Charlie, Taylor and Jamie go to SupaCon, they know it's going to be a blast. What they don't expect is for it to change their lives forever.
Charlie likes to stand out. SupaCon is her chance to show fans she's over her public breakup with co-star, Reese Ryan. When Alyssa Huntington arrives as a surprise guest, it seems Charlie's long-time crush on her isn't as one-sided as she thought.
While Charlie dodges questions about her personal life, Taylor starts asking questions about her own.
Taylor likes to blend in. Her brain is wired differently, making her fear change. And there's one thing in her life she knows will never change: her friendship with Jamie—no matter how much she may secretly want it to. But when she hears about the Queen Firestone SupaFan Contest, she starts to rethink her rules on playing it safe.
Its been a while since I read a book this cute and adorable. I've seen this book floating around on Instagram and book tubers briefly mentioning this book but never a actual opinion and I felt like talking about this book. First off you got an interesting set of best friends there Jamie (Nerdy Fanboy), Taylor(Aspie Fangirl) , and Charlie (Asian bi youtuber). I admire the amount of diversity in this book. I loved seeing Taylor's character, I love when I come across a character that I can feel is me and Tylor was it. Taylor is an aspie and seeing her though he ups and downs this weekend and seeing the courage it took for her to be there was interesting to see. But also seeing her do what it takes to help others it. Fun fact about me is that I hate all forms of physical touch and I wanted to reach out an hug these characters especially the moment Taylor was helping that girl though a anxiety attack. It was just so sweet. I just loved these characters they were adorable and sweet and I couldn't contain myself at some points of the book I just loved it so much. This has to be my favorite book this year.