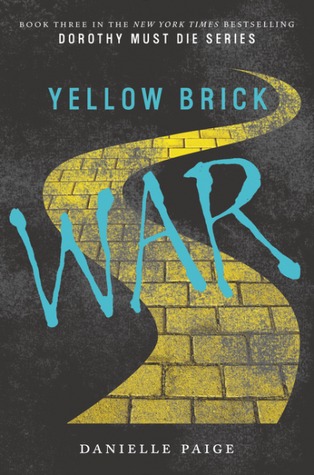 Yellow Brick War by Danielle Paige
Goodreads
:
Click
Published March 15th 2016 by HarperCollins
Once upon a time, there was a girl from Kansas named Dorothy.

You might know her as the Girl Who Rode the Cyclone. She ended up in Oz, where she became friends with the Tin Woodman, the Scarecrow, and the Cowardly Lion. But the temptation of magic was too much for her. She let it change her. Her friends became twisted versions of their former selves.

The magical land of Oz is now a dark and menacing place.

My name is Amy Gumm. Tornadoes must have a thing about girls from Kansas, because I got swept away on one too. I also landed in Oz, where Good is Wicked, Wicked is Good, and the Wicked Witches clued me in to my true calling:

Assassin.

The only way to stop Dorothy from destroying Oz—and Kansas—is to kill her. And I'm the only one who can do it.

But I failed. Others died for my mistakes. Because of me, the portal between the worlds has been opened and Kansas and Oz are both in danger. And if I don't find a way to close it?

Dorothy will make sure I never get to go home again.
I knew it was a mistake to read this book before the last one is out. I actually thought that this book was the last one which is why I started this series. I first thought that this book was a trilogy. When I did end up finding out that there was another book after, I was already in deep and wasn't about to stop now. I'll just reread the books that way my mind is refreshed when the next books come out.
If you haven't started this series you really are missing out on something great. I loved that this book didn't revolve around romance like I come across in many young adult books. I mean there is a tiny bits but it isn't centered about the books. The main goal is to get rid of Dorthy and that was that. I loved that there was so much going on. I mean I loved the first book, the second book was OK, didn't do much for me, then there's this book so much going on and I just couldn't put it down. This might be my favorite book out of the series. I loved getting to see the change in different characters. I enjoyed seeing Amy have that internal battle with herself when it came to power and how it was changing her. Overall fantastic highly recommend you lovely readers check out this book!