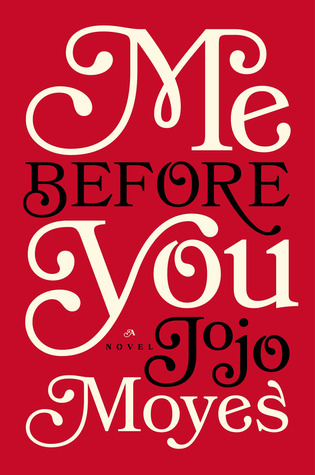 Me Before You by Jojo Moyes
Goodreads
:
Click
Genre: Contemporary, Romance, Fiction, Chick Lit, Adult, Fiction,
Pages: 369
Published December 31st 2012 by Pamela Dorman Books/Viking
Synopsis:
Lou Clark knows lots of things. She knows how many footsteps there are between the bus stop and home. She knows she likes working in The Buttered Bun tea shop and she knows she might not love her boyfriend Patrick.
What Lou doesn't know is she's about to lose her job or that knowing what's coming is what keeps her sane.
Will Traynor knows his motorcycle accident took away his desire to live. He knows everything feels very small and rather joyless now and he knows exactly how he's going to put a stop to that.
What Will doesn't know is that Lou is about to burst into his world in a riot of colour. And neither of them knows they're going to change the other for all time.
Review:
You only get one life. It's actually your duty to live it as fully as possible."
―
Jojo Moyes
,
Me Before You
I just finish reading this and why I can see what the hype is about. I've been hearing so many booktubers mentioning this book, I also heard that there's a movie coming out so I wanted to read this book before it came out in case I want to go to the movies. The one thing I do hear a lot is that don't watch the movie trailer if you don't want to be spoiled. Somehow I came across one and I was spoiled but I still loved the book turned out. If you are looking for an emotional book I would recommend you lovely readers to check this book out it is worth the hype.
All I can say is that you make me... you make me into someone I couldn't even imagine. You make me happy, even when you're awful. I would rather be with you - even the you that you seem to think is diminished - than with anyone else in the world."

―

Jojo Moyes

,

Me Before You