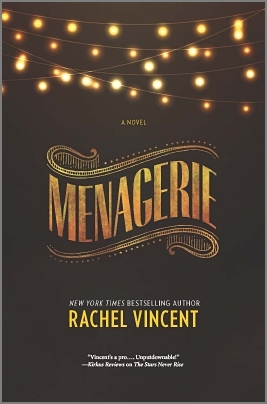 Menagerie by Rachel Vincent
Genre
: Urban Fantasy, Young Adult, Paranormal, Mythology, Adult, Dystopia, Science Fiction, New Adult,
Goodreads
:
Click
Pages
: 432
Purchase Link
:
Amazon
Expected publication: September 29th 2015 by MIRA
Synopsis:
From New York Times bestselling author Rachel Vincent comes a richly imagined, provocative new series set in the dark mythology of the Menagerie…
When Delilah Marlow visits a famous traveling carnival, Metzger's Menagerie, she is an ordinary woman in a not-quite-ordinary world. But under the macabre circus black-top, she discovers a fierce, sharp-clawed creature lurking just beneath her human veneer. Captured and put on exhibition, Delilah in her black swan burlesque costume is stripped of her worldly possessions, including her own name, as she's forced to "perform" in town after town.
But there is breathtaking beauty behind the seamy and grotesque reality of the carnival. Gallagher, her handler, is as kind as he is cryptic and strong. The other "attractions"—mermaids, minotaurs, gryphons and kelpies—are strange, yes, but they share a bond forged by the brutal realities of captivity. And as Delilah struggles for her freedom, and for her fellow menagerie, she'll discover a strength and a purpose she never knew existed.
Renowned author Rachel Vincent weaves an intoxicating blend of carnival magic and startling humanity in this intricately woven and powerful tale.
My Thoughts:
Going to the Menagerie on her birthday wasn't Delilahs idea of a good time but her boyfriend got her the tickets and her friends were ready to go. Little did she realize that there was more to her then she thought. When she was exposed by her inner beast coming to after witnessing a young wolf girl getting abused by her handlers. From then on things went south when she unknowingly revealed the beast inside her causing her to go from attendee to a sideshow attraction.
So I have to admit this is not at all the type of book that I would normally read. Just knowing that Rachel Vincent wrote this book was enough to spark my curiosity. Plus before I requested to get an ARC of this book through netgalley, I had noticed an advertisement for this book and was excited when I came across this book.
This was a great book, this book had me hooked from the very start that I just couldn't down. When I did put it down wasn't by choice unfortunately life gets in the way and I have to get things done. I loved there was so many different point of views going on which at first caused confusion for me but as they story went on I was able to figure out the different characters and get what was going on. I loved how caring Delilah towards other whether they are human or not. I would love to describe more about how much I loved this book but there is just so much and it would be hard to say without spoiling this book. Trust me this is a fantastic book and you going to want get your hands on this unique and interesting book.
Now for the unfortunate part of getting this book early, the long wait for the next book to come around. Ugh! #bookreaderproblems