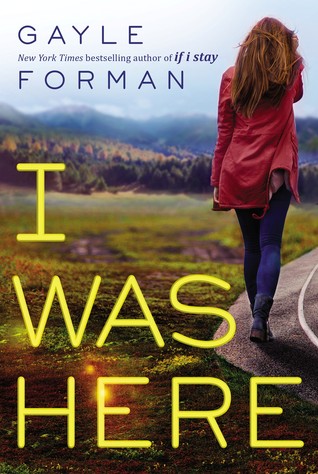 I was Here by Gayle Forman
Genre
: Mystery, Depression, Mental Illness, Death, Teen, New Adult, Realistic Fiction, Contemporary, Romance.
Goodreads
:
Click
Purchase Link
:
Amazon
Pages
: 270
Synopsis:
Cody and Meg were inseparable.
Two peas in a pod.
Until . . . they weren't anymore.

When her best friend Meg drinks a bottle of industrial-strength cleaner alone in a motel room, Cody is understandably shocked and devastated. She and Meg shared everything—so how was there no warning? But when Cody travels to Meg's college town to pack up the belongings left behind, she discovers that there's a lot that Meg never told her. About her old roommates, the sort of people Cody never would have met in her dead-end small town in Washington. About Ben McAllister, the boy with a guitar and a sneer, who broke Meg's heart. And about an encrypted computer file that Cody can't open—until she does, and suddenly everything Cody thought she knew about her best friend's death gets thrown into question.

I Was Here is Gayle Forman at her finest, a taut, emotional, and ultimately redemptive story about redefining the meaning of family and finding a way to move forward even in the face of unspeakable loss.
So heres what I thought:
Cody's best friend committed suicide and made sure no one would find out until she wanted it so. It was sent through an email. Cody had no clue her friend was suicidal, she didn't know how her friend managed to get a chemical like the one she used. In fact, she didn't know much about her best friend up until recently when she had lost touch with her when her friend left college. Packing up what was left of her best friends,Meg's, life she comes up to come evidence that leads her to think that leads her to want to search more into her friends life.
I this was a journey of Cody's grief learning about her best friend things she never knew. Not knowing what she was facing she headed on to finding out why her Meg did what she did. This book was sad and depressing at times but hopeful that Meg finds the answer she was looking for. I disliked her mother up until the end. I loved that Meg's family was able to give Cody the normalness of a family she wanted. I loved the Meg was able to get a bit away from her life to meet new people, go on a journey for herself and for Meg to come across secrets. I loved the mystery and I loved the relationship she had with Nick. I loved that what was going on between the two wasn't overpowering the book with romance, although there was just little bits of it to show what was going on with the two. This book was very morbid at some times.
Overall a great story, I really loved it.