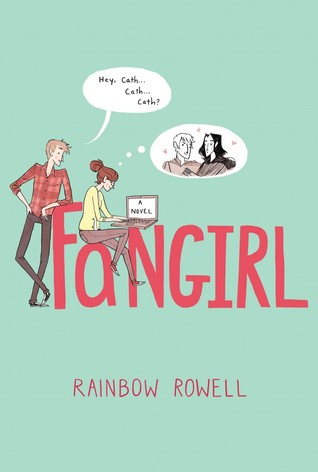 Fangirl by Rainbow Rowell
Genre
: Contemporary, Romance, Young Adult, New Adult
Goodreads
:
Click
Purchase Link
:
Amazon
Synopsis:
A coming-of-age tale of fan fiction, family and first love.
Cath is a Simon Snow fan.
Okay, the whole world is a Simon Snow fan...
But for Cath, being a fan is her life—and she's really good at it. She and her twin sister, Wren, ensconced themselves in the Simon Snow series when they were just kids; it's what got them through their mother leaving.
Reading. Rereading. Hanging out in Simon Snow forums, writing Simon Snow fan fiction, dressing up like the characters for every movie premiere.
Cath's sister has mostly grown away from fandom, but Cath can't let go. She doesn't want to.
Now that they're going to college, Wren has told Cath she doesn't want to be roommates. Cath is on her own, completely outside of her comfort zone. She's got a surly roommate with a charming, always-around boyfriend, a fiction-writing professor who thinks fan fiction is the end of the civilized world, a handsome classmate who only wants to talk about words... And she can't stop worrying about her dad, who's loving and fragile and has never really been alone.
For Cath, the question is: Can she do this?
Can she make it without Wren holding her hand? Is she ready to start living her own life? Writing her own stories?
And does she even want to move on if it means leaving Simon Snow behind?
Review:
I've attempted to read this book many times and just couldn't get into it or just didn't have the time. I mean I show off this book dozens upon dozens of times on my
EatSleepRead
fb Page, I should be able to read this book and tell others how much I liked/disliked this book.
A couple of days ago I decided to get this book as an audio book and listen to it on my cellphone which never leaves my side, so I would take a couple of moments to "read" listen to this book. After reading I couldn't help but think Is it really over? That's it? I loved it and didn't want it to end even if every loose end possible was set and over with. Overall I thought that this book was a fantastic book and wonder how could I have stalled reading this for so long. This is definitely the type of book I could reread and enjoy it just as much as the first time. With that being said I would recommend any one to read this book, it was fun and relate able to many of you readers/fangirls out there. Or at least that's how I feel and my sister is so much like wren its strange. Oh and thanks author, you've pretty much ruined guys for me because I absolutely loved Levi's character and will want my future guy to be just like him.
I was really wondering what would happen if Cath ever did get together with her mom to see what happens. I want to see her sisters side of the story to see if there is anything there. See how she got lost and got her way back ever everything.
* * If you haven't read this book then read it! If you have what did you think? Did you enjoy it? Who was your favorite character? Do you think you can relate to Cath or is it just me? Comment below on your thoughts I would really like to know.* *