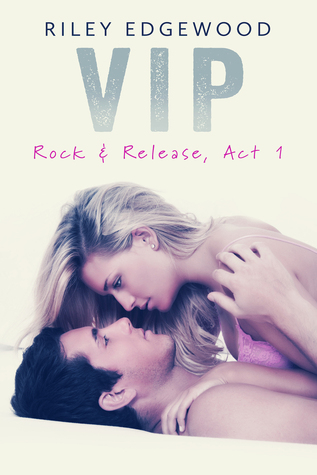 VIP by Riley Edgewood
(Rock & Release, Act 1)
Pages
: 128
Published November 17th 2014
Goodreads
:
Click
Purchase Link
:
Amazon
Free!
VIP is the first act of Rock & Release, Riley Edgewood's three-part new adult romance serial!
When Cassidy Evans scores VIP tickets to a concert, she decides to use them for one carefree night before beginning a summer internship at her father's Fortune 500 company. But one carefree night turns into a few too many martinis—with two unexpected twists: A steamy encounter with Gage Logan, sexy singer and guitarist, and a tempting job offer from Gage's boss to work at the concert venue she now knows quite intimately.
She definitely can't take the job. Her internship is an opportunity any business major would kill for. But the thought of working with her father, a man furious with grief over a family tragedy that struck six months ago, fills her with dread.
Then there's Gage. Working with him all summer could be
hot
. Cassidy can't stop flashing back to their night together. Molten kisses. His hands smoothing across the skin of her belly. The weight of his body above her own…
And suddenly the decision about how to spend her summer is much, much harder to make.
VIP
is the first act of the three part sexy romance serial,
Rock & Release
, launching November 17, 2014. The final two acts,
Starstruck
and
Show Stopper
, will release on December 1 and December 15, respectively.
Cassidy has a lot on her hands and is looking for at least one night for a break. Soon she'll be on going off to a internship that'll take up her summer but will at least be good for her future, its a position that most work hard for and she got it. On the same night she gets VIP tickets she also manages to get a job offer that seems hard to refuse. Doesn't help that she'll be working with a hott guitarist. Now she must make the choose of sticking to her plan and keeping her family happy or to have a fun and stress free summer with the new job offer and make herself happy.
I really liked the book. I enjoyed getting to know the characters in the book. I liked that there was a bit of drama to keep things interesting. I liked that was learning to be herself and not letting people who can be negative drag her down. I loved the connection between Cassidy and Gage. I really enjoyed this book and look forward to checking out the next book to see what happens next.