The Un-Dead Circus (The Chronicles of Orlando Book Four) by M.M. Shelley
Purchase Links:
Smashwords
|
Amazon
A circus has arrived and it brought the Un-dead with it.
Since Orlando moved to Los Angeles he had been attacked by zombies, zombie bulls, ghost and now a band of immortals want him dead.
Betrayed by someone close and running low on resources Orlando has only one option-- to join the enemy he had been fighting as he faces his biggest challenges-- facing the mysteries of the Un-Dead Circus and keeping his friends alive.
My Thoughts:
I was going to do a review for each book, but figured most of the reviews would've been similar so I'll just put one review for all. What I loved about all the books was how fast paced and action packed they all are. I liked how no matter what order you read these books you'll never miss a thing. I like how each book has a summary of the previous books that way if you missed any you'll still have an understanding of what's going on. I liked all the characters and I love how unique this series is. I liked that one of the uniqueness of the book is that everyone has the potential of magic, just some are better at tapping into the magic then other. 4 of 5 stars.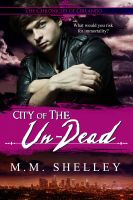 City of the Un-Dead (The Chronicles of Orlando Book Three ) by M.M. Shelley
Purchase Links:
Smashwords
|
Amazon
What would you risk for immortality?
The Day of the Dead is celebrated once a year, a day when those who have died are remembered. This year the dead are returning and they are returning as an army to seek vengeance against Orlando.
Dead Relatives (The Chronicles of Orlando Book Two) By M.M. Shelley
Purchase Links:
Amazon
After discovering what was hidden in Mexico and having to sneak back across the border Orlando returns to Los Angeles, but is unable to return to his home.
Instead of hunting Zombies he is now hunted.
Betrayed by those he thought he could trust, Orlando must keep the truth of what he knows to himself.
That is until dead relatives return with dire warnings.
The Zombie Story (The Chronicles of Orlando Book One) by M.M. Shelley
Purchase Links:
Amazon
(FREE!!)
Unfolding on the streets of Los Angeles is a new breed of monster... Orlando, fresh from the mid west, arrives at his new high school on his Harley Davidson. All he wants is to make it through the day, and begin his training as a Zombie Hunter. But someone has different plans for him.
My Thoughts:
When Orlando unwillingly moves to Los Angeles the last thing he expected was to witness a shooting. When he calls to the police there is no evidence that the murder took place. Now his parents are furious and his grandpa lets him know that he's a zombie hunter and will start training soon.
Fast paced, action packed, fun and entertaining read.This book was a great introduction to the Chronicles of Orlando. There was never a dull moment. The characters were easy to like. I loved that there was so much going on to keep my interest. This was a quick and easy read. I look forward to checking out what happens next. There was many twists and turns and people are not who they seem.I really enjoyed this books storyline. 4 of 5 stars.
a Rafflecopter giveaway
M.M. Shelley is a storyteller, word smith and dreamer. She has traveled the world extensively in search of the magic which is often overlooked in every day life. M.M. Shelley is a native of southern California, and a student of mythology from which she gets much inspiration.
Visit M.M. Shelley: