Wow, already three months into this year! The time is goes fast am I right? So I'm back for another post on my most anticipated reads for this month. This month is a short list and I was lucky enough to get two of these four books as ARCs which I'm grateful for so I'll be reading them sooner then planned.

Now without further ado here are the books I've been looking forward to: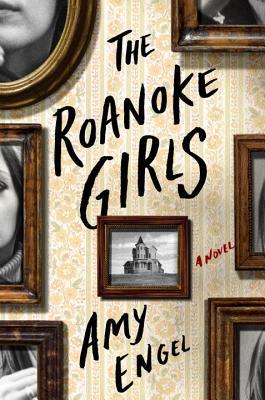 Release Date : March 7
Honestly it was the cover that really wanted me to get ahold of this book. The over seems
interesting
and mysterious. Maybe something about family history. I was lucky enough to
receive
an
hard copy
arc of this book and You'll be seeing a review up here soon. I never did
actually
see the description but this book looked
interesting
enough to make me want to get my hands on this book. I'll post the synopsis below that you can decide for yourself if you want to get your hands on this book.
Roanoke girls never last long around here. In the end, we either run or we die.
After her mother's suicide, fifteen year-old Lane Roanoke came to live with her grandparents and fireball cousin, Allegra, on their vast estate in rural Kansas. Lane knew little of her mother's mysterious family, but she quickly embraced life as one of the rich and beautiful Roanoke girls. But when she discovered the dark truth at the heart of the family, she ran fast and far away.
Eleven years later, Lane is adrift in Los Angeles when her grandfather calls to tell her Allegra has gone missing. Did she run too? Or something worse? Unable to resist his pleas, Lane returns to help search, and to ease her guilt at having left Allegra behind. Her homecoming may mean a second chance with the boyfriend whose heart she broke that long ago summer. But it also means facing the devastating secret that made her flee, one she may not be strong enough to run from again.
As it weaves between Lane s first Roanoke summer and her return,
The Roanoke Girls
shocks and tantalizes, twisting its way through revelation after mesmerizing revelation, exploring the secrets families keep and the fierce and terrible love that both binds them together and rips them apart.
Ok so after reading the synopsis I'm even more curious about this book!
Release Date : March 14
This is the second book to
These Vicious Masks
series this is a second book to the series so I really can't tell you much because I wouldn't want to spoil you. Although the first book in the synopsis will tell you its a mix of Jane Austen and X-man kinda vibes going on so yea. I'm going to attach a link (
Review : These Vicious Masks
)Its my review to the first book a year ago with synopsis and other info if you are interested in seeing what these books are about. Before I stop talking about this book I just want about point of that cover, isn't it awesome, Feminine and kick ass. With the fan being a dagger and all.
Release Date : March 14
If you haven't read the Dorothy Must Die Series what have you been doing with your life? I will be honest though it took me a while to get ahold of this series and even then I wasn't really interested. Like most I've watched the original Wizard of Oz movie and I have to tell ya I as nice was it was I really wasn't into it. It wasn't until last year that I picked up all three and ended up binge reading If you read it you'll understand why because it was pretty fantastic. From what I know this is a the last book to it so at this point if I'm up to another binge read of the first three again that way I can read this book because my memory is a bit hazy but I'm still looking forward to this book anyways. I would put a synopsis but I wouldn't want to spoil the series for you so check out the first book
Dorothy Must Die
Release Date : March 28
I'm a fan of this authors Daughter of Smoke and Bones Trilogy so of course I'm up for anything this author writes. Even if I wasn't familiar of this author it would've been a cover pick because do you see how gorgeous that cover is. It's so eye catchings, pretty and I'm looking forward to getting my hands on this book.
Strange the Dreamer
is the story of:
the aftermath of a war between gods and men
a mysterious city stripped of its name
a mythic hero with blood on his hands
a young librarian with a singular dream
a girl every bit as perilous as she is imperiled
alchemy and blood candy, nightmares and godspawn, moths and monsters, friendship and treachery, love and carnage.
Welcome to Weep.
So what books are you looking forwards to reading this month? Where you looking forward to any of the books I listed? Comment below your answers. Maybe I'll end up adding those book to my tbr list as well.