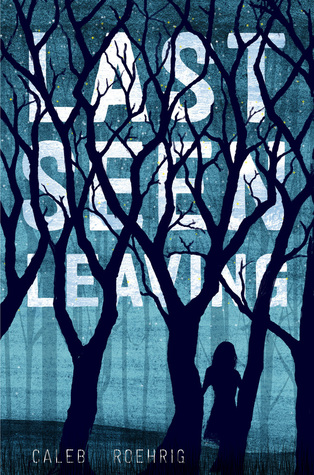 Last Seen Leaving by Caleb Roehrig
Genre: Mystery, LGBT,Contemporary, Young Adult
Pages: 336
Published : October 4th, 2016

by Feiwel & Friends
Flynn's girlfriend has disappeared. How can he uncover her secrets without revealing his own?

Flynn's girlfriend, January, is missing. The cops are asking questions he can't answer, and her friends are telling stories that don't add up. All eyes are on Flynn—as January's boyfriend, he must know something.

But Flynn has a secret of his own. And as he struggles to uncover the truth about January's disappearance, he must also face the truth about himself.
Imagine Flynn's surprise when he learns about the disappearance of his girlfriend by the police showing up at his house. Even more so when there's evidence that pops up that doesn't look too well for January.Things have been weird lately and January seems to have some secrets shes hiding. Now hes on to finding out her secret and what really happened to her.
So I apparently didn't read the description of the book, must of been a cover buy for me. I wasn't sure what to expect when going into this book and was pleasantly surprised that this book came out pretty great. Managed to finish in 2 days because I just couldn't put this book down. I thought Flynn's character was interesting and getting to see his side of the story which was also his coming out story as well. I though it was interesting getting to see how people reacted to his coming out as well as seeing how things are now that his girl friend is missing. I normally like stories with a dual point of view and this didn't have that, but I don't think it would've been nessesary I feel content to seeing just Flynn's side.
With books like this, especially YA books I was wondering when a romance would pop up because it seems to be a trend with YA books. Even if his girlfriend was a missing I find that sometimes the main characters seems to straight out find someone to replace them mean while wondering about the person they lost. This isn't one of those types of books. It felt more authentic without it if you get what I mean.
I loved that there was enough mystery to keep the readers guessing and making assumptions of who is might be and what really happened. I found my self many times pointing out what I thought happened and who I thought was suspicious.
Overall a great story I really enjoyed it. 4.5 stars!