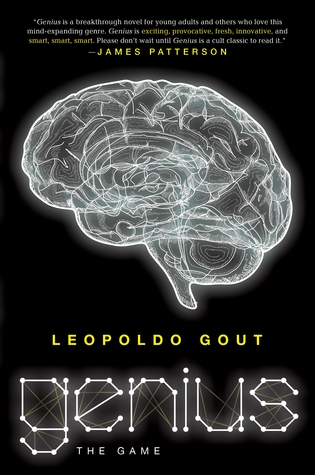 Genius by Leopoldo Gout
Genre
:Action, Adventure, Young Adult,
Goodreads
:
Click
Purchase Link
:
Amazon
Pages
: 304
Trust no one. Every camera is an eye. Every microphone an ear. Find me and we can stop him together.
The Game:
Get ready for Zero Hour as 200 geniuses from around the world go head to head in a competition hand-devised by India's youngest CEO and visionary.
The Players:
Rex
- One of the best programmers/hackers in the world, this 16-year-old Mexican-American is determined to find his missing brother.
Tunde
-This14-year-old self-taught engineering genius has drawn the attention of a ruthless military warlord by single-handedly bringing electricity and internet to his small Nigerian village.
Painted Wolf
-One of China's most respected activist bloggers, this mysterious 16-year-old is being pulled into the spotlight by her father's new deal with a corrupt Chinese official.
The Stakes:
Are higher than you can imagine. Like life and death. Welcome to the revolution. And get ready to run.
Now this isn't normally the type of book I pick up but I was able to get my hands on an ARC and decided to give it a show. I loved getting to know the characters even if for a short period of time and getting to know a brief history on the three main characters. That goes to say I loved that there was multiple point of views getting to see how the game went from different angles. I thought that there was plenty going on to keep the readers interested. I thought it was interesting in the aspect of the game but wish there was more details on in what happens when the winners win. When it came towards that ending I was shocked. Would love to talk more into that but don't want to spoil you readers who are interested in getting your hands on this book. But I will warn you that there is a cliffhanger. Overall a pretty good book and I really enjoyed it I would rate this book as a 3.5 since I border on really liking it but I didn't love it.