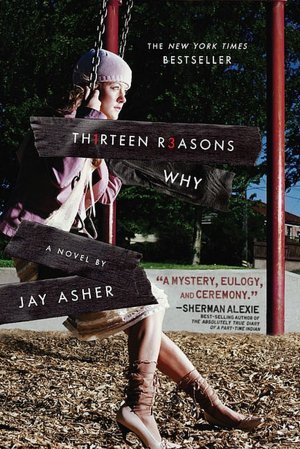 Thirteen Reasons Why by Jay Asher
Genre
: Young Adult, Contemporary, Fiction, Realistic Fiction, Mystery
Goodreads
:
Click
Pages:288
Purchase Link
:
Amazon
Synopsis:
Clay Jensen returns home from school to find a mysterious box with his name on it lying on his porch. Inside he discovers thirteen cassette tapes recorded by Hannah Baker, his classmate and crush who committed suicide two weeks earlier.
On tape, Hannah explains that there are thirteen reasons why she decided to end her life. Clay is one of them. If he listens, he'll find out how he made the list.
Through Hannah and Clay's dual narratives, debut author Jay Asher weaves an intricate and heartrending story of confusion and desperation that will deeply affect teen readers.
Hannah is heading towards a downward spiral or secrets, betrayal, and its all becoming too much. When someone is depressed they give people the warning signs just in case but what happens when its ignored.
Its been a while and its all been leading to this moment where Hannah decides to tape record 13 reasons why she was going to finally kill herself as well as tell each and every person the reasoning behind what happened. Clay was sent these tapes and reasoning why, the rules are listen to it and pass it on or else everyone will find out how he played a role in her death. It can also lead to some great trouble for those who are on these tapes were to go out with possible jail time or worse. All they have to do is listen and pass it on. It's in these moments that Clay really got to know more about Hannah.
This truly was a sad and depressing book but I just couldn't put it down.I had to know what was going on. This really was a interesting book, its like watching a slowly moving trainwreck. I can only imagine how many people go through this, not through the same situation but the symptoms of depression that is overlooked or not helped when the person is obviously reaching out. I absolutely loved the book.I also recommend you lovely readers to check this book out.