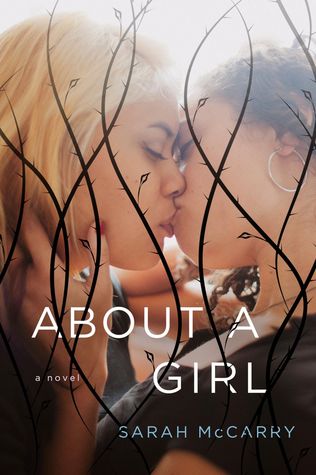 About a Girl by Sarah McCarry
Genre: LGBT, Fantasy, Contemporary, Young Adult, New Adult, Romance, Music,
Published July 7, 2015

by St. Martin's Griffin
Blurb:
Eighteen-year-old Tally is absolutely sure of everything: her genius, the love of her adoptive family, the loyalty of her best friend, Shane, and her future career as a Nobel prize-winning astronomer. There's no room in her tidy world for heartbreak or uncertainty—or the charismatic, troubled mother who abandoned her soon after she was born. But when a sudden discovery upends her fiercely ordered world, Tally sets out on an unexpected quest to seek out the reclusive musician who may hold the key to her past—and instead finds Maddy, an enigmatic and beautiful girl who will unlock the door to her future. The deeper she falls in love with Maddy, the more Tally begins to realize that the universe is bigger—and more complicated—than she ever imagined. Can Tally face the truth about her family—and find her way home in time to save herself from its consequences?
Review:
Tally is a girl who is very sure of her life and how its going and where its going to go in the future. It wasn't until information that could possibly reveal some information about her parents that Taddy decides on a whim to follow the lead to see where it takes her. Rather then getting answers, she gets more questions. Among the
confusion
Tally learned a bit more information about the past and learns a bit more about herself when she meets the attractive Maddy.
So I'm unsure of how I feel about this book. Throughout the book I felt confused. Before I read this book, I already knew that this book was a retelling, of what I'm still unsure. If you can tell me what it is a retelling of I'd appreciate it. Can't remember from where, but I was told this was a great book which lead me to see this book out. Thankfully I was able to find it on Netgalley and request the book for free in exchange for a review, so that was pretty awesome. To those of you like me who hasn't read the previous books to this series its ok, I didn't feel like I missed a thing. I'm assuming they are standalone.
As for the content of the book it was interesting, I though it was interesting getting to more about Tally throughout the book. I loved how diverse the characters were. It was the first time I've come across a trans characters. This book also showed difference aspects of love and letting the character as well as the readers to know that difference love is ok. Another thing I liked was the connection between Tally and Maddy. I just thought that this book was interesting. One person in the book I would've loved to know more about was Shane I hope the author would consider making him a story because I'm very much interested to know.