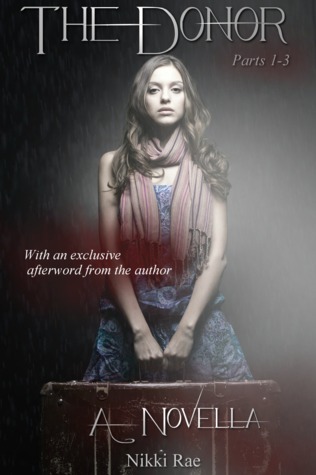 The Donor by Nikki Rae
Genre
: Novella, Paranormal, New Adult, Vampires, Illness
Pages
: 115
Published
: October 14, 2014
Goodreads :
Click
Purchase Link: Amazon
Casey Williams and her family are poor. Her parents work non-stop and so does she, just so they can keep the trailer roof from leaking.
They're getting by fine enough when the headaches start. Then there's the nosebleeds. And the inevitable doctor's bills.
Fortunately for Casey, there's MyTrueMatch.com: an exclusive, quick, and almost easy way to pay it all back before her parents even have to know.
All she has to do is give a man she's never met whatever he wants from her body.
Inside or out.
When I first came across this book I wasn't sure what to expect, I chose this book based off its cover and interesting title. While reading I found myself hooked. I just couldn't put it down. This is supposed to be 3 part but I don't get why I don't think this book would've been that great if it was separated. The storyline was interesting and unique which was a plus for this book. I like that there was a back and fourth with the time but then again found myself confused with the back and fourth. It kind of jumps back and fourth randomly. I was hoping for more in the book when it came to the ending, it just kind of suddenly stopped. I guess it was because I was hoping for a different type of ending. Overall I did enjoy this book I would rate this a 4 of 5 stars.