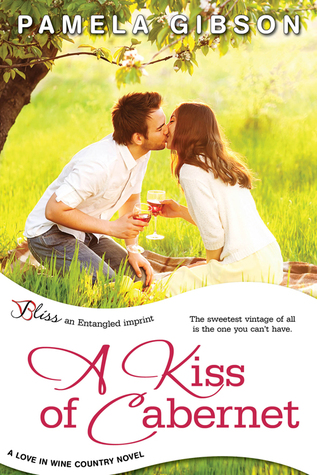 A Kiss of Cabernet by Pamela Gibson
Genre
: Contemporary Romance
Pages
: 253
Expected publication: October 20th 2014 by Entangled: Bliss
The sweetest vintage of all is the one you can't have…
Napa Valley vineyard manager Paige Reynoso is furious. After a six-year absence, her boss—big-city entrepreneur Jake Madison—has returned, only to announce he's selling the vineyard. Paige has always dreamed of buying Garnet Hill, which sits on land where her ancestors first settled, but without the cash, she's out of luck. And then there's an even bigger problem…she has a serious thing for the surprisingly tempting man who's just destroyed her dream.
Jake's in a tight spot. With his other business ventures struggling, he needs cash—
fast
. The last thing he needs is the too-lovely Paige convincing him the grapes are an effective long-term investment. Or needing Paige herself, whose spirit and heart bring his to life. But as their attraction grows, Jake knows he's not in a position to offer her anything beyond this moment. Because Jake has a big secret…and it has nothing to do with sour grapes.
Review:
An enjoyable romance novel. I loved watching the connection between Jake and Paige. I loved seeing how sweet they were to each other and I liked that what was happening between the two wasn't easy. I loved the passion that Paige had for her job and I loved how caring Jake was making hard decisions to not let any of his workers loose their jobs. I loved that there was enough drama and romance to keep the readers wanting more. Overall this was a great and sweet book and I recommend romance lovers to check it out.